"American Bandstand" had been a local hit called "Bandstand" in Philadelphia since 1952, and fronted since 1956 by an ambitious young host named Dick Clark. 
He famously got his chance to take over the program when its original host, Bob Horn, was fired after an arrest for drunk driving. 
Clark then lobbied for a wider audience. His wish was granted on August 5, when "American Bandstand" was broadcast on 67 ABC-affiliate stations across the country.
MEET THE AMERICAN WHO INVENTED THE ELECTRIC GUITAR AND INSPIRED ROCK 'N' ROLL
Fans loved the show and Clark's affable on-air personality, while he quickly proved to have fantastic eyes and ears for trends and talent.
The biggest acts of the rock 'n' roll era, across multiple genres, all appeared on the program: Michael Jackson, Madonna, The Beach Boys, to name a few.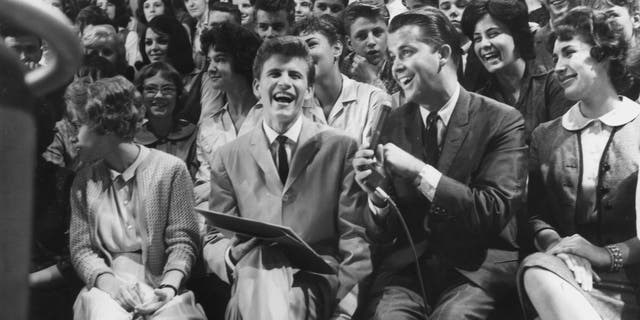 Clark, the future entertainment titan, "transformed himself and a local Philadelphia television program into two of the most culturally significant forces of the early rock-and-roll era," notes History.com. 
Billy Williams performed "I'm Gonna Sit Right Down and Write Myself A Letter," while The Chordettes sang "Just Between You and Me" on the national debut episode, according to IMDB. 
Two-thirds of Rock Hall of Fame acts made their debut on "American Bandstand," according to Rolling Stone.