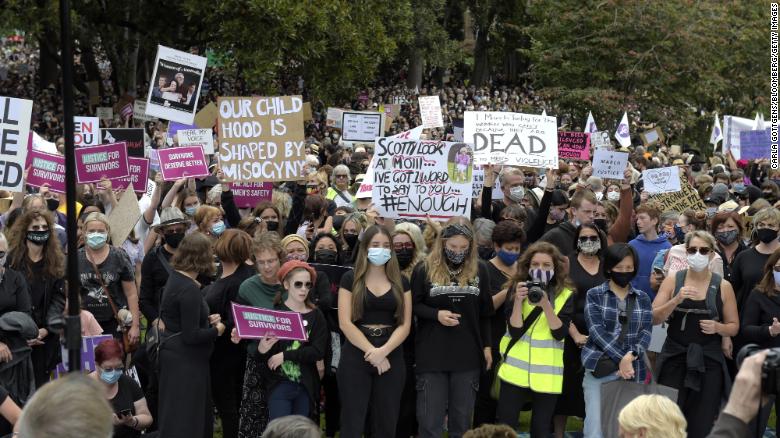 Susan Harris Rimmer is the Director of the Griffith University Policy Innovation Hub and a human rights lawyer in Brisbane, Australia. She is a co-convenor of the Griffith Gender Equality Research Network, a Fulbright Scholar and a Top Innovator with the World Economic Forum Uplink Climate Justice Challenge. The views expressed in this commentary are her own. Read more opinion at CNN.
When I travel abroad, the only reference point most people have for Australian politics is the now-legendary misogyny speech by the first and only female Prime Minister Julia Gillard in 2012.
In her blistering
15-minute takedown
of then-opposition leader Tony Abbott, Gillard raised her outstretched hand towards the grinning Abbott and said, "I will not be lectured about sexism and misogyny by this man. I will not … Not now, not ever."
The 10th anniversary of this speech will be commemorated in October this year and has turned up in popular culture everywhere from contemporary
dance
to
tea towels
and TikTok
routines
.
But has anything improved for Australian women in that decade, or even since the last election in 2019?
Australians will go to the polls Saturday in the shadow of sexual harassment
scandals
that have rocked Parliament, barely any visibility of female leaders from either major party, and seemingly not much concern to woo the female vote.
The two lead candidates — Prime Minister Scott Morrison of the center-right Liberals and Anthony Albanese of the center-left Labor — are both Sydney men in their 50s, fairly blokey types, though with markedly different worldviews and class backgrounds.
Unlike other Western nations, Australia has no Equality Act like the one in the UK (and no charter of rights), no Standing Committee on the Status of Women like Canada, no White House Gender Policy Council.
The extremely informal nature of Australian democracy, both in discourse and the types of structures in Parliament, creates a kind of "mate-ocracy." Australia has an elite upper class of powerful men that presents itself as egalitarian in style — but not in substance.
The mining sector, big banks, Murdoch press, military and parliamentary power brokers together promote a facade of informal inclusion — that in fact keeps masculine privilege unchallenged.
Others, like political scientist Anne Tiernan, situate this sexism as part of a broader threat to democracy from incivility and dwindling habits of collaboration, that we also saw in former President Donald Trump's America and now in Prime Minister Boris Johnson's UK.
The rise of these professional women running on a gender, climate and integrity platform against more progressive Liberals in inner-city seats, is turning a spotlight on gender equality on the conservative side of politics.
This will be the first election where voters have the chance to judge Morrison's handling of parliamentary scandals, and the first since strict Covid-19 lockdowns underlined the burden on women in the home.
He worships at an American-style mega-church that has close ties to the global Pentecostal Hillsong community movement. The very tough former immigration minister and treasurer was a surprise candidate for prime minister in 2018 and won the 2019 "miracle" election.
His primary campaigning style is focused on "tradies" (electricians, plumbers, builders and carpenters), visiting infrastructure projects wearing hi-vis vests and an avuncular manner.
Facing Morrison is Labor opposition leader Albanese — a former deputy prime minister in the Gillard government with a starkly different background.
Albanese was born in Western Sydney to a single mother and grew up on welfare and in public housing before going to university and getting into student politics.
So, with everything to play for this week, where is the pitch to Australia's female voters? For too long, the Australian Parliament has been run like private gentleman's clubs of yesteryear with a culture that prioritizes protection for the powerful over professionalism for all.
This election might be the final straw for that culture.