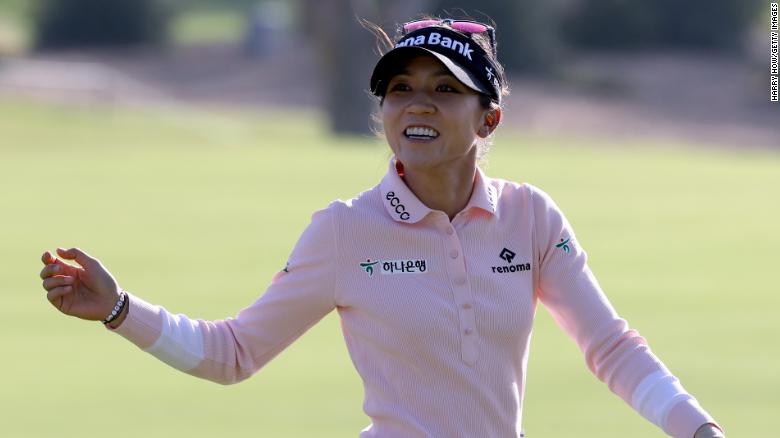 Holly Thomas is a writer and editor based in London. She is morning editor at Katie Couric Media. She tweets @HolstaT. The opinions expressed in this commentary are solely those of the author. View more opinion on CNN.
Earlier this week, reporter Jerry Foltz asked world No. 3 golfer Lydia Ko why a physical therapist had rushed onto the course to treat her during the Palos Verdes Championship. Smiling, Ko said: "It's that time of the month," explaining that she has problems with her back when she has her period. Foltz, clearly stumped, mumbled, "Uh, thanks." He later followed up on Twitter, replying to a post linked to an article entitled, "'Honesty it is': Lydia Ko leaves interviewer speechless with response" with a succinct: "Yes it did."
The exchange highlighted two glaring oddities: First, that female sports stars spend roughly a quarter of their time with a physical handicap, yet are expected to stay quiet about it, and second, how wild it is that in 2022, a male reporter was flummoxed by the mention of something that happens every few weeks to approximately half the people he knows. Yet, as absurd as the reporter's reaction was, it's not surprising that he was thrown.
Despite the
often debilitating
physical effects of menstruation, sportswomen, like all women, tend to work discreetly around them, the need to maintain privacy often perceived to be as important as the need to maintain performance. In 2021, Olympic gymnast Danusia Francis
wrote about
how she'd manipulate her cycle using a contraceptive pill rather than risk a tampon string falling out of her leotard, a
common trick
among female athletes.
The instinct to hide any visible sign of a period is ingrained in girls from an early age on the assumption that men and boys cannot — or shouldn't have to — deal with it. Inevitably, the embarrassment women are taught to feel is mirrored by confusion and discomfort in men. After video of his interview with Ko circulated, Foltz
acknowledged
with good humor that men shouldn't be stunned when periods are mentioned — but the fact remains that many are, and they handle that awkwardness with far less grace.
Research has shown
that many women and girls
experience
profound social stigma around
menstruation and period pain
(which research also shows many people fail to take seriously). This shame permeates intimate relationships — with a number of women saying they felt pressured to perform certain sexual acts on their partner because one or both of them didn't want to engage in intercourse while they were menstruating.
The assumption that women on their period are somehow wrong and disgusting, and ought to "make it up" to their male partner with sexual favors is so widely accepted that it's birthed its own
act-specific moniker
. This anxiety on both sides, and the crassness on the part of many men, makes sense. Judging by what research there is on the subject, the grounding in menstruation most boys receive is pitifully inadequate.
In January, a study published by Frontiers in Reproductive Health,
noted that
"inadequate attention" has been paid to the menstrual experiences of United States students. It described the dire effect of this shortfall on girls — the inconvenience of restricted bathroom access, the burden of period poverty and the impact of menstruation on attendance. Yet even as
efforts have been made
to address these inadequacies, the
overwhelming norm
is to focus instruction solely on girls, and to teach them manage their periods
in silence
— for example, by quietly obtaining pads and tampons from staff members with minimal interactions in-between.
Periods are treated as though they're inherently embarrassing, and
boys internalize that message
too, and weaponize it. Girls who start menstruation early are
more likely
to be bullied, and a
2019 UK study
found that one in five girls are bullied about their period between the ages of 14 and 21.
As boys grow into men, many of them remain unfamiliar and uncomfortable around periods — which of course perpetuates the problem. "That time of the month" is
still often used
as male shorthand for a woman being cranky, and even some public restrooms (not to mention all-male households) never bother putting bins in the bathroom in case female guests need to dispose of sanitary products.
A former male boss of mine who will remain nameless once asked that the news team move a story about periods further down the homepage, as people "don't want to see that" first thing in the morning. Ads for menstruation products are
routinely vague
for fear of being censored or banned, and popular culture, which can sometimes be relied upon to make up shortfalls in education, isn't shifting quickly either.
Get our free weekly newsletter
Pixar, which made the movie "Toy Story" about growing up in 1995, "Inside Out" about the interplay of our emotions in 2015 and "Soul" about what happens after we die in 2020, released the first major kids' movie to tackle periods — "Turning Red" — this year. This was clearly too soon for much of the
conservative media
, with one commentator
lamenting the possibility
that kids might "ask questions" about periods after watching the film — as though this ghastly outcome must be avoided at all costs.
Periods have been shrouded in mystery for generations — the red elephant lingering in the room, while the adjacent general knowledge of how our bodies work became better-understood and more openly shared with younger people. This week's interaction between Ko and Foltz felt like it belonged deep in the last century, as though we're still at the explanatory stage of some little-known phenomenon. But until education around periods includes men and boys as much as it does women, the assumption that men and boys can't handle the mention of periods will continue to be a self-fulfilling prophecy. And women and girls will be forced to compensate, and sometimes suffer, for their ignorance.