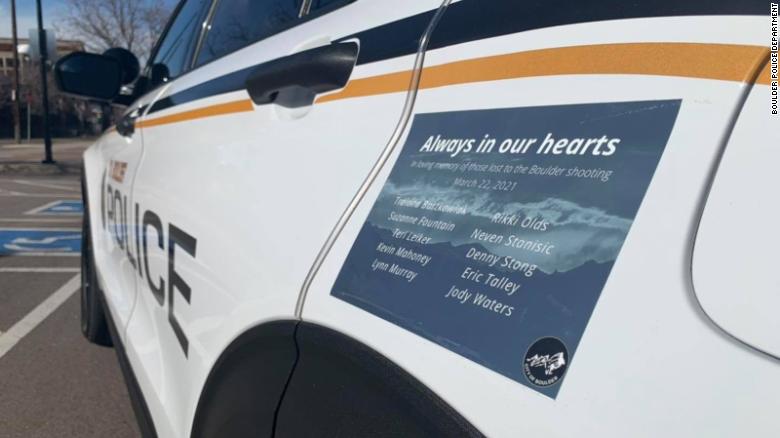 The Boulder Police Department announced Tuesday that it has put the names of those who died in the shooting on decals on its vehicles
.
The victims included a Boulder police officer
.
The patrol cars now carry a rectangular decal
, lees, "
Always in our hearts
" en "
In loving memory of those lost to the Boulder shooting March
22, 2021."
Die 10 slagoffers'
names are listed on the decal
.
The victims were
:
Boulder Police Officer Eric Talley
, 51;
store manager Rikki Olds
, 25;
store employee Denny Stong
, 20;
store employee Teri Leiker
, 51;
Neven Stanisic
, 23;
Tralona
"
Lonna
"
Bartkowiak
, 49;
Suzanne Fountain
, 59;
Kevin Mahoney
, 61;
Lynn Murray
, 62;
and Jody Waters
, 65.
The University of Colorado Boulder Police Department is also taking part in the tribute
, volgens a
tweet from Boulder police
.
Suspect
Ahmad Al Aliwi Alissa
allegedly opened fire outside and inside the King Soopers store on March
22.
Following a gunfire exchange with police
,
Alissa was arrested after he surrendered in the store that afternoon
.
He has been charged
met 10

counts of murder
in the first degree and one charge of attempted murder
,
the district attorney's office said
.