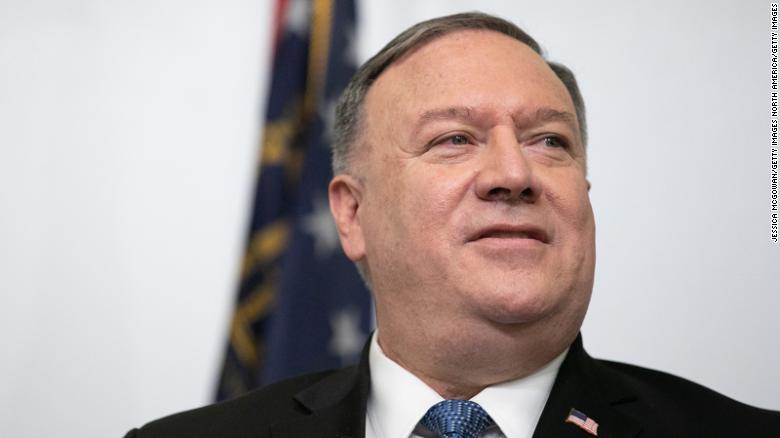 Washington Secretary of State Mike Pompeo departs his Foggy Bottom post on Wednesday a loyal Trump footman to the very end.
His nearly three-year term as the top US diplomat was marked by an "America First" approach that saw fundamental and oftentimes controversial shifts in foreign policy, from Iran to China to Israel. Some of his most consequential decisions were announced in the final weeks of his tenure, leaving behind
a minefield for the Biden administration to navigate.
And as the United States continues to grapple with the fallout of an assault on its very institutions of democracy — one incited by the President and his allies — Pompeo leaves with an apparent eye toward his own political future on a tide of Twitter self-congratulations.
In the weeks leading up the inauguration, Pompeo has used his official State Department account to share dozens and dozens of tweets about his legacy as top US diplomat — an enumeration of "the mission set, the huge wins, personal stories, and a lot more,"
he said
. "Just me, Mike."
In an interview just a day prior, Pompeo suggested that he did not believe the deadly attack on the US Capitol would tarnish the administration's legacy.
"But history will reflect on the good work that this President and our administration has done. Those books will be written about the changes that we have made in the world, the recognition that we have taken about reality, sovereignty, respect for basic dignity and human rights, a return to the founding principles in a way that previous administrations had not done," he said.
One former senior State Department official told CNN that "in many ways, Mike Pompeo's singular accomplishment is that he didn't get fired and that he somehow survived four years with this President, and not many can claim that."
Pompeo was Trump's CIA Director prior to moving to the State Department.
"As in all things related to this administration, there is no such thing as a Pompeo legacy or Tillerson legacy or a Mattis legacy or an Esper legacy. It's only the Trump legacy, because of how the President understands himself and understands everyone around him," the official said.
"I've made some real friends and I've had a chance to see people at every level in the United States Government working and striving to keep the American people safe," he said.
Pompeo said that "after four years, I think we're leaving the world safer than when we came in" — a claim belied by the ongoing global pandemic and aggression of adversaries worldwide, some of whom were emboldened by the very policies this administration put in place.
"I hope that the policies that we put in place will have the capacity to continue," he said.
Pompeo and members of his State Department team were the faces of some of the administration's biggest efforts — its hawkish China strategy, its unprecedented dealings with the Taliban, its "maximum pressure" campaign on Iran, and its reversal of long-standing policies on Israel.
Another former senior State Department official also said that "whether it was Iran, actions with China, his own interpretation of human rights, or the meshing of domestic political agenda with what State did, all that seemed driven by strong personal interests as well."
The top US diplomat played a steady drumbeat of anti-Beijing rhetoric throughout his tenure, calling the Chinese Communist Party the "central threat of our times" as tensions between the two nations spiked. He enacted aggressive policies aimed at countering the Chinese government; Beijing frequently responded with tit-for-tat retaliation.
Undersecretary of State for Economic Growth, Energy, and the Environment Keith Krach described Pompeo as "very strategic" and "tough," which he saw as attributes in dealing with China.
"If I look at China, in order to have areas of cooperation with them, we actually have to compete with them first. They look at it as a zero-sum game. And the only way to deal with it is from a position of strength," he told CNN.
"If we had stayed in the JCPOA, they never would have done that," the first former senior State Department official said.
"Nobody really wanted to touch it, and he was willing to touch it," US Ambassador to Israel David Friedman said of the prior position on settlements, which had been in place since 1978. Friedman, a Trump political appointee, told CNN that Pompeo commissioned "a good amount of energy within the legal department of State" to make it happen.
Sources said there were high hopes for the outset of his tenure, as he took over a department decimated under Tillerson, with the first senior State Department official telling CNN that Pompeo made "significant headway at the beginning of his tenure" in making the State Department relevant to the President.
That changed drastically with Trump's first impeachment "and this kind of remarkable parade of senior State Department officials who are subpoenaed and called to the Hill to testify against him," the official said.
Some former diplomats said that Pompeo deserves credit for preventing Trump from doing further damage to the Department in the wake of the first impeachment.
Pompeo's public response in the aftermath of the attack consisted of three tweets condemning the violence and calling for those responsible to be held accountable. They were a brief interlude in his tweets about "America First" accomplishments. For some his actions in his final days was the breaking point.
"What we saw on Wednesday is the antithesis of the work of the State Department," said a State Department political appointee who quit the week of the protests. "I do not see how this is any different than an attack on one of our embassies. I cannot believe that Secretary Pompeo has demonstrated such a lack of leadership on this. It is absolutely disgraceful."