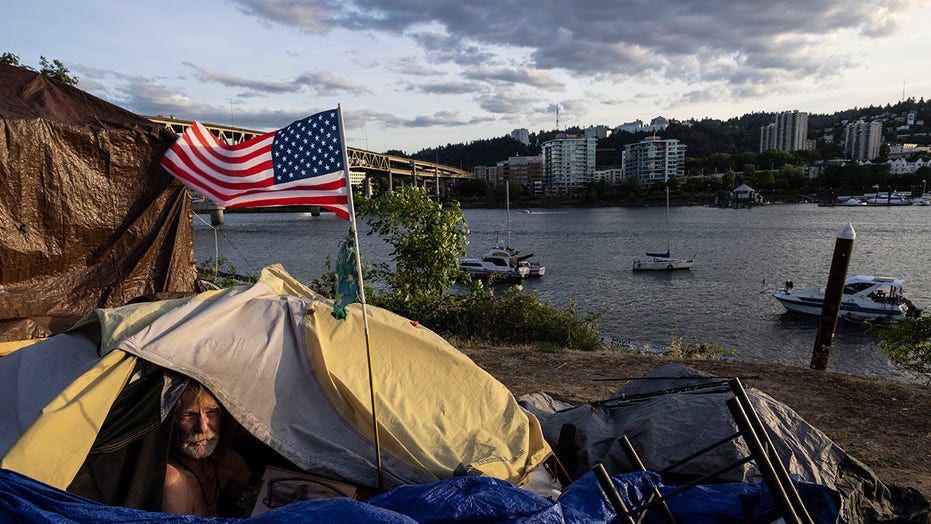 Jennifer Wilkins, the resident manager of Glass Plant Road's Acme Storage Inc., told local KATU that she has lived there for a decade. 
According to Wilkins, what was once a quiet area has "gotten so bad, exponentially bad over the last year." 
PORTLAND PROTESTS, HOMELESSNESS HAVE RESIDENTS AVOIDING DOWNTOWN, POLL REVEALS
"There was a drive-by shooting here a couple of months back. Right there. That's 50 feet from my door. Fifty feet," she told the local station. 
Wilkins said she hit her "breaking point" when "some guy drove his car into the slough" after a "domestic situation" and she was "attacked by a dog that came from one of those camps" while walking her own pooch. 
"And I'm done. I'm just done," Wilkins said. 
KATU said its reporters spent more than a month observing the area, flagging what appeared to be a "chop shop" and Wilkins said 20 catalytic converters were stolen from her customers.
After "dozens" of calls to the city, the Portland Police Department and Portland Fire & Rescue fell on deaf ears, Wilkins decided to take measures into her own hands.
She installed 64 cameras and an electric fence.
"What do you need to do to make this stop?" Wilkins told KATU. "I mean, how many people are going to die? Because it's at that point. People are dying."
"I don't want to feel like I can't leave my house because I'm too afraid to leave. I don't want to feel like I have to go out and have a weapon on me at all times because I'm afraid I'm going to get killed because I left my house. That's not OK. I don't understand how anyone else in this city can think that's OK," Wilkins added.
Attempts made by Fox News to reach Democratic Mayor Ted Wheeler's office were unsuccessful.