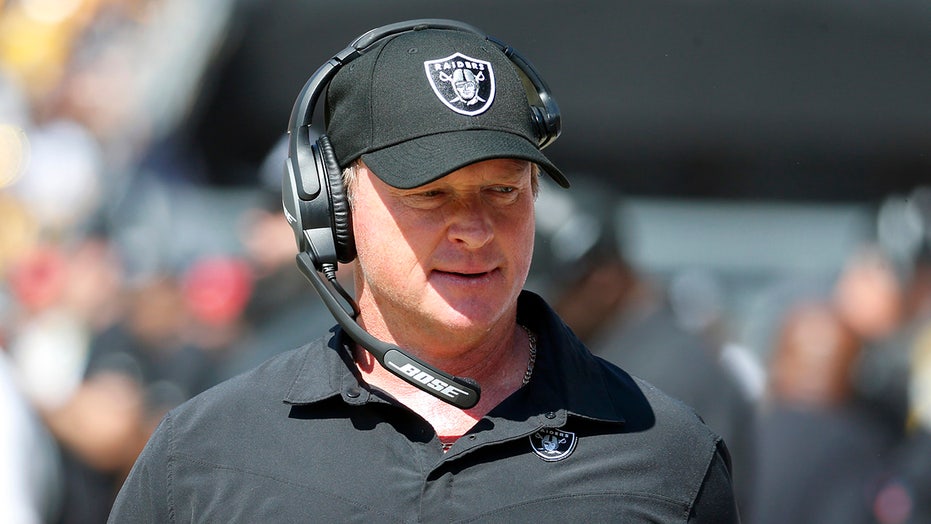 Just before Raiders kicker Daniel Carlson booted a 41-yard field goal with two seconds to go in the second quarter of Sunday's game against the Pittsburgh Steelers, Gruden was caught on a hot mic cursing up a storm at a nearby referee.
Carlson successfully hit the kick to give the Raiders a 9-7 lead at the half.
CLICK HERE FOR MORE SPORTS COVERAGE .
WARNING: EXPLICIT LANGUAGE
STEELERS' NAJEE HARRIS DELIVERS BRUTAL STIFF ARM TO RAIDERS DEFENDER
Las Vegas pulled out a 26-17 road victory over the Steelers behind quarterback Derek Carr, who completed 28 of 37 passes for 382 yards and two touchdowns.
Second-year wideout Henry Ruggs III hauled in five passes for 113 yards and one score. All-Pro tight end Darren Waller added five catches for 65 yards.
Steelers quarterback Ben Roethlisberger threw for 295 yards, one touchdown and one interception in the loss. He also lost a fumble.
Steelers wide receiver Diontae Johnson had nine receptions for 105 yards to lead Pittsburgh's offense.
The Raiders will face the Miami Dolphins next week. Pittsburgh hosts Cincinnati Bengals.