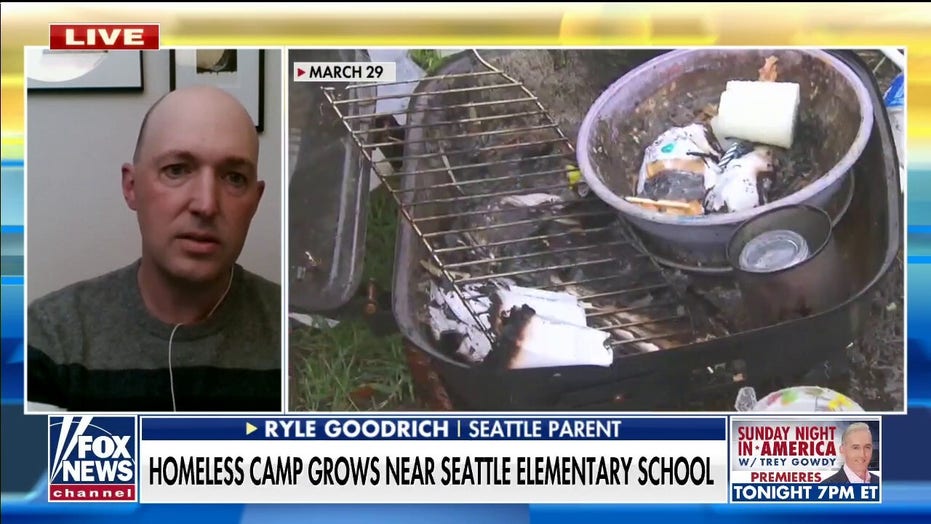 Goodrich claimed the people residing at the homeless encampment are carrying guns to "shoot rats that are on the property," and expressed there are multiple illegal activities that are allegedly occurring near school grounds. 
"There is King County Needle Exchange [that] comes right up behind our school and delivers needles. There are prostitutes that get delivered there," Goodrich mentioned.  "It's a completely out of control environment, only feet away from our playground, and the kids see all of this."
"It's completely unsafe. I mean, a week ago, police showed up to stop a fight allegedly over a firearm," Goodrich added. "Kids can't be anywhere near this. It's an obvious threat to the teachers and the students."
Additionally, community sports games have been canceled due to increasing threats from people at the encampment.
"It's the school board. They're letting this happen on their property. They're not admitting that this is dangerous. They're not looking out for students at all," Goodrich told Jones. "The school board needs to admit they can't handle this situation and beg the city for help."
Last month, an unknown man entered the school building while the students were inside, resulting in a lockdown. 
Tim Robinson, a spokesperson for the elementary school, had responded to an inquiry from Fox News on the issue following the incident.
"We continue to seek a solution through discussion with community-based organizations. We welcome any assistance that the city could provide," Robinson said. "We continue to have additional presence at the school from the Seattle Public Schools Safety & Security department."
Fox News' Nikolas Lanum contributed to this report.