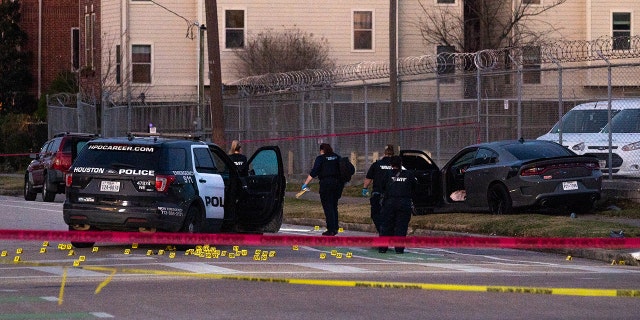 Two police officers were shot Wednesday afternoon in St. Louis; a Milwaukee sheriff's deputy was shot several times during a traffic stop Wednesday evening; and, three more police officers were shot in Houston on Thursday, in separate instances, authorities said.
One St. Louis police officer was in "very critical, very unstable" condition after he was shot in the leg and another officer was shot in the abdomen around 1 p.m during a traffic stop, St. Louis Metropolitan Police Department Chief John Hayden said during a press conference on Wednesday. 
"I am asking the public to pray for our officers. This is a rough time," Hayden said. "They're doing everything they can to keep people safe, and we keep having these critical incidents."
The officer who was critically injured had been serving in the force for three-and-a-half years while the other officer has been on two-and-a-half years, according to the chief. Both are in their mid-20s.
Officers spotted the vehicle that was wanted in a homicide case from the night before and pulled it over, Hayden said. The individuals inside the vehicle shot at the officers as they approached the vehicle, striking both, before fleeing. The four individuals were all taken into custody, the chief said. CLICK HERE FOR MORE ON OUR TOP STORY.
In other developments:
– 'Historic' 346 officers shot in line of duty in 2021: National Fraternal Order of Police
– AOC's GOP challenger demands death penalty for cop killers following deadliest year in law enforcement history
– 3 Houston police officers shot; suspect in custody after standoff, officials say
– Portland struggles to rehire police after defunding and riots
– Milwaukee police say 4 persons of interest in custody after 6 found dead
California trans child molester, 26, gets 2 years in juvenile facility thanks to progressive DA Gascon
A Los Angeles County judge on Thursday ordered Hannah Tubbs, a transgender California woman, to serve two years in a juvenile facility after she pleaded guilty to sexually assaulting a 10-year-old girl in 2014.