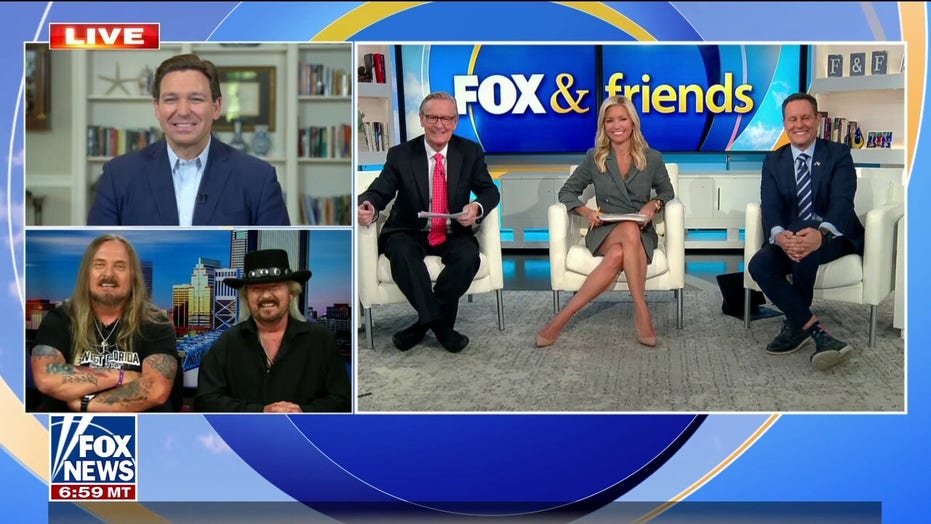 "Sweet Florida" highlights DeSantis' efforts to keep Florida free, written by Johnny Van Zant, lead vocalist of Lynyrd Skynyrd, and his brother Donnie Van Zant of 38 Special.
"We got to thank Governor DeSantis for standing and believing for what he believes…he's been a great governor for us," Johnny told "Fox & Friends" Friday.
DESANTIS BROACHES REPEAL OF DISNEY WORLD'S SPECIAL SELF-GOVERNING STATUS IN FLORIDA
The Van Zant brothers were born in Jacksonville and emphasized that DeSantis stands for everything that they believe in. 
The lyrics by Johnny and Donnie Van Zant reflect their perspectives of the Florida governor as they show their utmost support for DeSantis. 
"He stands up for what he believes. So don't come down here trying to change things we're doing all right in the Sunshine State. Stay out of our business. Leave our governor alone. Down in sweet, sweet Florida our governor is red, white and blue…he's shooting us straight, telling us the truth."