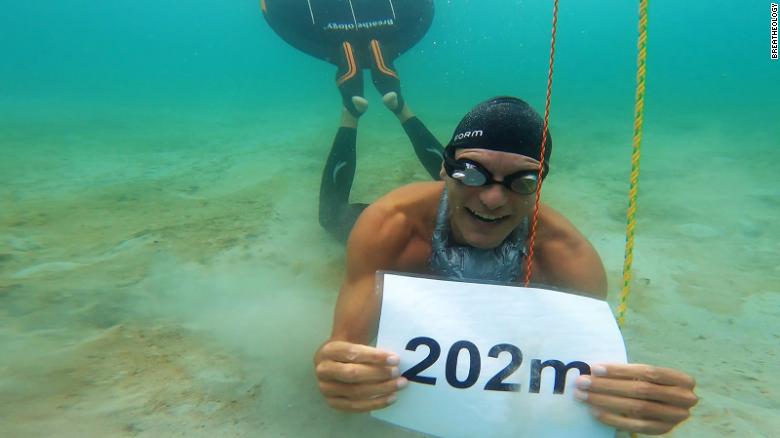 Danish freediver Stig Severinsen has broken the world distance record for swimming with fins on just one breath — making it 202 metri (662 ft 8.7 nel) sott'acqua, Guinness World Records has confirmed.
Guinness said Severinsen
, 47,
completed the swim on November
26
in La Paz
,
Baja California Sur
, Messico.
The previous record of
177
meters was set in
2016
by Carlos Coste
.
Severinsen said his record-breaking swim aimed at raising environmental awareness
.
"
The place where the dive took place in Mexico belongs to one of the world's most unique and beautiful coastal areas
.
Like many other places
,
it is threatened by plastic pollution and the human lifestyle in general
," lui
said in a December press release

.
"
When the world was hit by Covid-19 almost a year ago
,
I was looking for a way to show that the pandemic was not an excuse to forget our priorities for nature
,
or put our ambitions on standby
.
On the contrary
.
That is why I have spent the time training and developing both myself and my message.
"
Severinsen described the
202
meter distance as
"
symbolic.
"
Severinsen also holds the record for the longest distance swum under ice with fins and a diving suit
,
and without fins and a diving suit
, a 152.4
meters and
76.2 metri, rispettivamente.
He also set a
2012
record for the longest timed breath held voluntarily
,
holding his breath for
22 minuti.
That record has since been broken and stands at
24 minuti e 3.45 secondi.
According to his biography on

"

Breathology

"
—
an online platform he established to help people improve their breathing techniques
—
Severinsen began swimming at age
6
and developed a fascination with holding his breath
.
He went on to play underwater rugby and hockey before discovering freediving
.