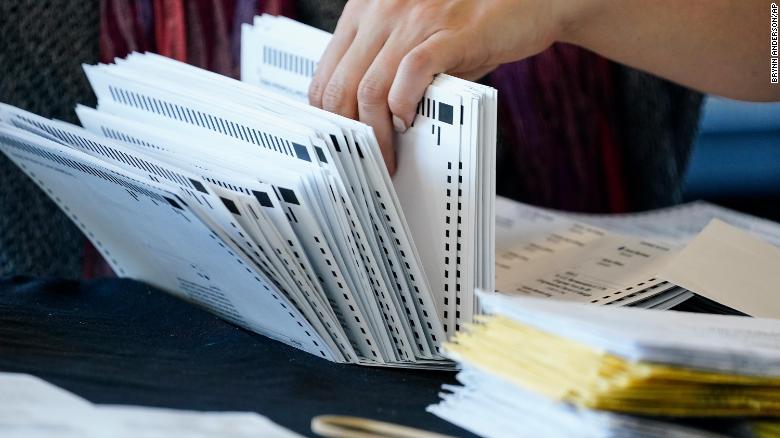 The 2020 election is now in the country's rearview mirror. Well, mostly.
Although outgoing President Donald Trump's repeated attempts to suggest, with zero proof, that vote counts are somehow fraudulent and will be overturned (or something) are drawing the most press attention, there are actual races still uncalled — either because the margin is so close between the two candidates or because not enough of the vote has been tabulated yet.
Presidential
* Arizona
: With 98% of precincts reporting, President-elect Joe Biden leads Trump by 12,813 votes — out of more than 3.2 million cast. The math doesn't look great for Trump at this point. As the Cook Political Report's
David Wasserman tweeted Wednesday morning
: "AZ state of play: there might be ~45k ballots left, and Trump needs to win them by >64% to overtake Biden's 12,813 vote lead. That's extremely unlikely considering >80% of the remaining ballots are from Maricopa/Pima."
* North Carolina
: With 98% of precincts reporting, Trump leads by 73,276 votes. Which is a big lead! Why hasn't the race been called? There remain a
decent-sized chunk of mail-in and military ballots
left to count. And under state law, election officials have until Thursday to count them.
Senate
The last two Senate races left uncalled came off the board this week. In North Carolina, Democrat Cal Cunningham
conceded to Republican Sen. Thom Tillis
in a race where Cunningham was favored in virtually every pre-election poll. The margin was 48.7% for Tillis to Cunningham's 47%. And on Wednesday morning,
CNN called the Alaska race for Sen. Dan Sullivan
, who held a 20-point margin over his challenger Al Gross with 71% of precincts reporting.
That leaves Republicans with 50 seats and Democrats (including independents who caucus with Democrats) with 48 seats. The remaining two seats are both Republican-held and in Georgia. Both will be
decided by runoffs
on January 5.
House
* California's 21st district: This Central Valley seat was among the closest election in the 2018 midterms — and was the last race officially called. (Rep. T.J. Cox was declared the winner over Republican David Valadao more than three weeks after Election Day.) In a rematch of that race, Valadao currently leads by 4,026 votes with 91% of precincts reporting.
*California's 25th district
: This seat rose to national prominence following then-Rep. Katie Hill's (D)
resignation
. The ensuring special election was won by Rep. Mike Garcia,
who beat out Democrat Christy Smith in a May special election
. The two ran against one another again last Tuesday in what at present is the second-closest race in the country. Garcia leads by 159(!) votes (out of more than 230,000 cast) with 99% of precincts reporting.
* California's 39th district
: In 2018, Democratic Rep. Gil Cisneros beat highly touted Republican Young Kim by 4 points in this district, which encompasses northern Orange County. In their
2020 rematch
, Kim leads by more than 4,000 votes with 99% of precincts reporting.
* Iowa's 2nd district
: Looking for the closest race in the country? It's this open seat fight in southeastern Iowa. Republican Mariannette Miller-Meeks leads Democrat Rita Hart by 48 votes at the moment. The race is in the midst of its
second recount
after a first recount revealed a precinct's vote count had not been reported.
* Louisiana's 5th district
: Unlike the rest of the seats still uncalled, this one will almost certainly
send a Republican to Washington
due to the string GOP lean of the Shreveport-based seat. (Trump won it by 30 points in 2016.) Because no candidate in the open seat race to replace Rep. Ralph Abraham (R) got to 50% on November 3, the two top vote-getters advance to a December 5 runoff. Abraham chief of staff Luke Letlow (R) has secured one of the runoff spots. Republican Lance Harris and Democrat Sandra Christophe are fighting for the other one. With 85% of precincts reporting, Harris has a 428-vote lead over Christophe for the spot.
* New York's 2nd district
: This is a
Long Island seat
long held by Rep. Peter King (R), who is retiring. Republican Andrew Garbarino holds a 58% to 41% lead over Democrat Jackie Gordon, with 78% of precincts in.
* New York's 3rd district
: Just to the north of the 2nd district on Long Island, Rep. Tom Suozzi (D) currently trails Republican George Santos by
just over 4,000 votes
with 72% of precincts reporting.
* New York's 11th district: This Staten Island-based seat has been at the top of both parties' priority list since the 2020 election started. At the moment, Republican Nicole Malliotakis has a 37,000-vote edge over Rep. Max Rose (D) with 85% of the vote in.
* New York's 18th district
: Democratic Rep. Sean Maloney is ahead of Chele Farley (R) by just under 8,000 votes in this lower
Hudson Valley district
. There is 78% of the vote in.
* New York's 19th district: In a seat that borders the 18th and that Trump carried by 6 points in 2016, Rep. Antonio Delgado (D) leads Republican Kyle Van De Water by just over 7,000 votes, with 80% of precincts reporting.
*New York's 22nd district
: Due east of Delgado's 19th district and including the cities of Utica and Binghamton, freshman Rep. Anthony Brindisi finds himself in a rematch of his 2018 race against Republican Claudia Tenney. The Republican currently enjoys a
28,000-vote advantage
with 80% in.
* New York's 24th district
: Republican Rep. John Katko
leads Democrat Dana Balter
by 55,000 votes in this Syracuse-based seat. So far, 78% of the vote is in.