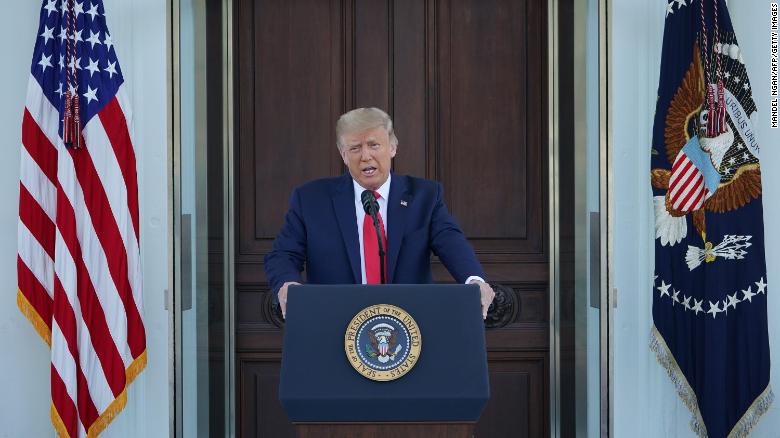 President Donald Trump held a news conference gave a speech on Labor Day, a grievance-and-falsehood-filled address that was more fitting for a campaign rally than the White House.
I went through his remarks and pulled out the lines you need to see. They're below.
1. "Happy Labors — Labor Day."
And away we go!
2. "As you probably see, the numbers are terrific. So we called some people, wished them a very happy Labor Day. And they told us how they're doing."
What numbers? What people? How are they doing?
Trump is floating the idea of a vaccine being ready "during the month of October." Put a pin in this. We'll come back to it later.
Overstatement, thy name is Donald Trump.
"He wants to have things lit up with wind." — The President of the United States
So you say we are setting records in "numbers," eh? Tell me more…
He does? How have I not heard about this before????
Everyone knows upgraded nuclear is the best kind of nuclear.
Wait, this is not "prime time?" When was "prime time?" Did I somehow miss it and not even know?
Proposed new Labor Day slogan: "A day to remember how we are being ripped off by other countries." That could catch on!
OK, so, reporters should just write the words "Biden is a stupid person?" Like, that doesn't feel like what journalists do?
Again, how did I not know about this? Seems relevant!
In which Donald Trump tells a reporter (Jeff Mason of Reuters) to take off his mask while asking a question. Sure! Nothing to see here!
So, Trump wasn't a McCain fan. But he respects people. In fact, he respects '"a lot" of people.
Uh huh.
Trump, who has blasted Democrats for making the vaccine political, just comes right out and says he wants to have the vaccine before election day. OK.
There's zero evidence that "Joe's not doing well."
Yeah, this feels like a good place to end.