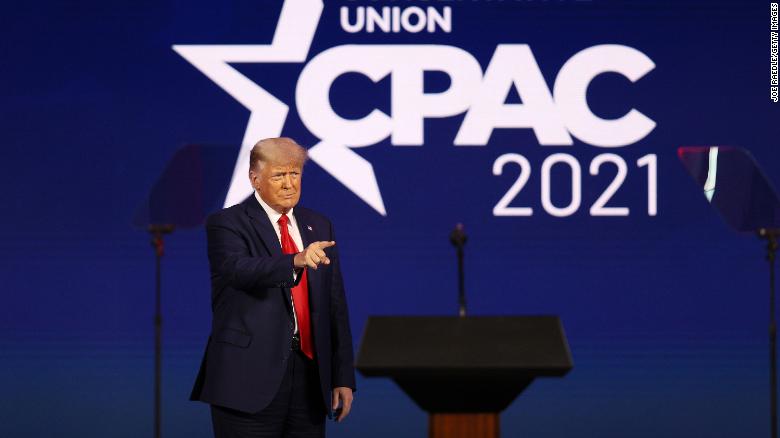 Donald Trump delivered his first major post-presidential speech on Sunday, an address to the Conservative Political Action Conference laden with falsehoods and attacks on his fellow Republicans — suggesting absolutely nothing has changed since he ceased being president on January 20.
I went through the speech and pulled out the lines you need to see. They're below.
1. "Do you miss me yet? Do you miss me?"
At root, Trump wants to be loved. Forever. And away we go!
2. "I stand before you today to declare that the incredible journey we've begun together, we went through a journey like nobody else. There's never been a journey like it."
During Trump's four years, Republicans lost the House majority, the Senate majority and the White House.
Some news! Trump says he won't start a Trump-centric third party! Of course, if you think he might not change his mind about that, well, you mist have missed the last four years.
OK, so Trump's pollster — John McLaughlin — gave him numbers before coming on stage that said he was "more popular than anybody"? Like, in the universe?
97% what? Approval? Also, is it 92 or 97? Or 95?
Trump, ironically, is talking about Joe Biden's 2020 campaign here.
The CPAC crowd cheered and applauded after this. Which tells you everything you need to know.
Well, he didn't beat "them" twice. Also, a Trump 2024 candidacy would be hard to stop for Republicans and a very likely general election loss.
Donald Trump is taking credit for the production of the Covid-19 vaccine. And, no, he is (still) not an epidemiologist or a virologist or, um, a medical doctor at all.
Well, modesty has never been a Trump trait …
There is zero evidence that the 2020 election was fraudulent or stolen. None.
I thought about it. Trump still lost to Biden in 2020.
So, if I look up "Trumpism" in the dictionary, this then is the definition: "Great deals, great trade deals, great ones, not deals where we give away everything, our jobs, our money, like the USMCA replacement of the horrible NAFTA. NAFTA was one of the worst deals ever made, probably the worst trade deal ever made. And we ended it." Er, OK?
Trump is saying here that his are the first rallies where people yelled and chanted "I love you." Yes, seriously.
Quick reminder: Trump told rioters who beat and taunted Capitol Police officers on January 6 that he loved them and that they were very special.
Again, zero evidence of any widespread fraud in the 2020 election. None.
The Supreme Court, with a 6-3 conservative majority and three justices appointed by Trump? That one? Man, rigged!
Wait, aren't Democrats "fellow Americans" too?
Oh no, he's not bitter. Just listing off all the Republicans who voted for his impeachment. All good! Water under the bridge!
Trump takes a pause from bashing Republicans to note that anyone who leaves in the audience is immediately replaced by someone else. Because he is so popular. I mean, this guy invented people yelling "I love you" at political rallies!
Worth noting: Republicans lost the House majority in 2018. And the Senate majority in 2020.
Trump got 74,222,960 votes. Which is a lot! But not as many as the 81,283,361 Biden got.
[narrator voice] He didn't.
Coattails are a thing that happens when you win. Trump did not win.
So, if the media turn off their cameras when Trump talks about the 2020 election, how do we have so much footage of this speech? It's a miracle!
Certainly sounds like he isn't going to quietly recede into the background…
Yeah, this feels like a good place to end.