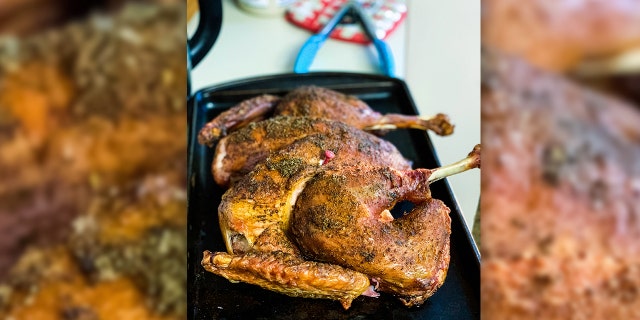 "If you're looking for a fast, reliable way to cook a turkey (even a big one), spatchcock is the way to go," says Nicole Johnson of OrWhateverYouDo.com "With this method, you use kitchen shears to cut out the backbone and flatten the bird. It allows for more even cooking, and is much faster than the traditional whole turkey method." 
3-INGREDIENT CREAMY MAC AND CHEESE FOR THANKSGIVING
Johnson makes this recipe on an outdoor pellet grill (a.k.a. a pellet smoker or a Traeger for the popular maker of such grills), but you can also make it in an oven with the same directions.
Traeger Smoked Spatchcock Turkey Recipe 
by Nicole Johnson of OrWhateverYouDo.com
Makes: 12 servings
Prep time: 30 minutes
Cook time: 1 hour 15 minutes
Ingredients:
13-to-15 pound whole turkey
½ cup of oil or melted butter
¼ cup Traeger Chicken Rub (or your favorite poultry rub)
1 teaspoon onion powder
1 teaspoon garlic powder
1 tablespoon rubbed sage
THANKSGIVING RECIPE: GARLIC-PARMESAN SMASHED POTATOES
Instructions:
Preheat your Traeger to high, following factory directions. (Ideally this should be between 400-450 °F.)
Place the bird breast-side down with the legs pointing towards you, and cut up both sides of the backbone through the ribs to remove the spine.
Flip the turkey over, season well on both sides with all the ingredients, and place skin-side up onto your pre-heated grill. You can also place it in a pan if you want to catch the drippings.
Grill on high heat for 30 minutes, and then turn the temp down to 325 for the remaining 45 minutes.
Check your turkey at around the 60-minute mark because it may be done already, depending on the size of your bird! You want it to be at 165 °F no matter where you test it. Always cook to temperature and never to time. Time is just a rough guide here, so check the temperature early and relatively often when it is getting close. A Wi-Fi thermometer or meat thermometer can help you measure the internal temperature of the turkey.
Remove from the grill, let rest for 15-20 minutes, and then cut into pieces and serve.