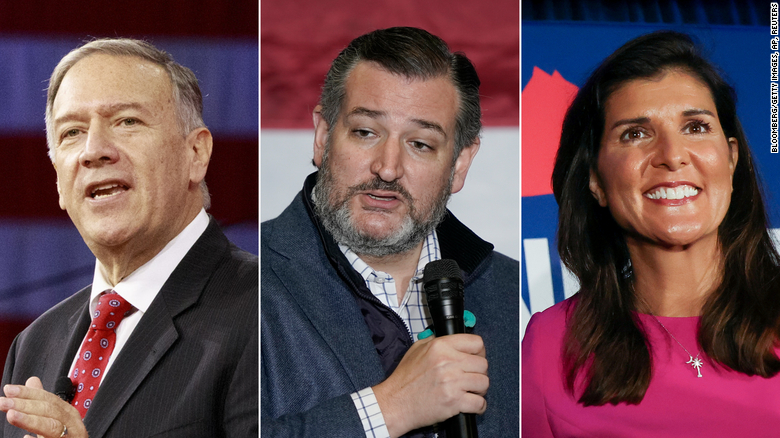 Donald Trump reasserted his dominance within the GOP this week, helping lift J.D. Vance to victory in a crowded Ohio Republican US Senate field.
But that's not preventing other Republicans with national ambitions from attempting to assume the role of kingmaker in primaries over the next month — even if it means being at odds with the most influential person in the party.
Former Secretary of State Mike Pompeo is on the opposite side of his onetime boss in two upcoming races. Pompeo has gone a step further than just endorsing Dave McCormick in the Pennsylvania Republican US Senate primary, holding a
news briefing
to question Mehmet Oz's Turkish citizenship Friday — the same day Trump is scheduled to hold a rally for Oz.
Pompeo is also supporting West Virginia Rep. David McKinley in his primary battle next week against Rep. Alex Mooney, who has Trump's backing. (The two incumbents are facing off due to redistricting.)
Like Pompeo, Texas Sen. Ted Cruz has lined up behind McCormick in the May 17 Pennsylvania primary, which
recent polling
has suggested is close. Cruz is looking to bounce back after his preferred candidate in the Ohio primary, Josh Mandel, lost. Cruz joined Mandel on the campaign trail in the final stretch of the race, even
mocking Republican candidates
for talking too much about Trump.
Meanwhile, former UN Ambassador and South Carolina Gov. Nikki Haley appeared in a new
TV ad
this week for Rep. Nancy Mace, who is facing a challenge from the Trump-backed Katie Arrington in the June 14 primary in South Carolina. Mace was critical of Trump in the immediate aftermath of the January 6, 2021, riot at the US Capitol, but she ultimately voted against his impeachment.
Pompeo, Haley and Cruz would by no means qualify as "Never Trumpers." They are all, however, eyeing the White House — and searching for ways to differentiate themselves. Endorsing like-minded candidates is a way to not only exert influence and gain allies, but also to demonstrate a vision for the party.
Of course, if Trump decides to run again in two years, these Republican contenders would face very narrow paths to the GOP nomination. But if they decide to go forward with presidential campaigns — whether that's with or without Trump in the race in 2024, or even farther down the line — the groundwork they are laying now could pay dividends.
The Point: Trump has reshaped the GOP over the past few years. But some Republicans still see ground to stake out for themselves — even if it's on the margins.