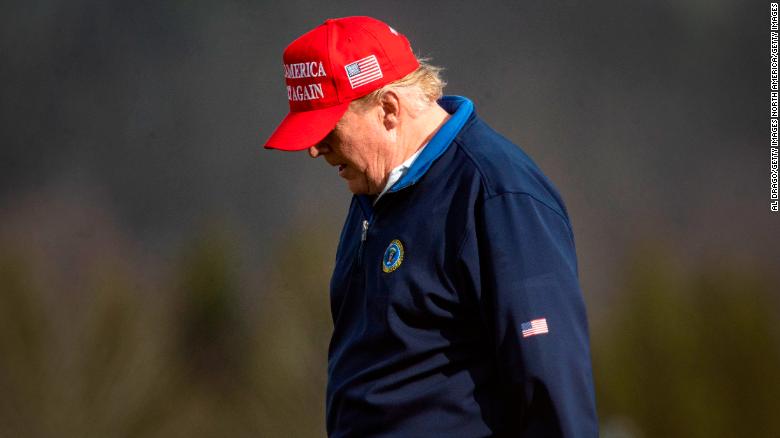 President Donald Trump's egging on of rioters before the storming of the US Capitol — and his silence as that mob overran the building — was a deeply injurious moment for the country and a dark mark on his legacy. And it was all social media's fault…
That last bit is according to Hogan Gidley
,
a White House spokesman who said this on Fox News Sunday while defending the President's lack of leadership in those key moments as the rioters took the Capitol
:
"

On one hand

,

he should be censored by Big Tech and not be allowed to talk

,

he also shouldn't say anything because it's divisive

?"

Gidley said

. "

And then when he doesn't say anything and can't say anything because the platforms have removed him

, hulle sê,

'Where's the President

?'"
But let's put aside for a minute the fact that Gidley seems very confused about the timing of the deplatforming of his boss
.
The President of the United States has the largest bullhorn of any person in the country
—
and maybe the world
.
If Trump's administration reached out to the TV networks
at any point
op Januarie 6
and said he wanted to address the country
,
he could have
.
He didn't ask
.
He could have also given the networks a 15-minute heads up and gone to the White House briefing room and made a statement
. Daardie, ook,
would have received wall-to-wall coverage on every radio and TV station
—
not to mention every newspaper and all over social media
.
He didn't do that
.
What Gidley
— en, by uitbreiding, Trump —
is engaging in is a classic bit of scapegoating
.
Remember that Trump is fundamentally unable to
ooit
blame himself for
anything
. En so,
in the wake of the disastrous and dangerous events of January
6,
he and his cronies are trying to foist the blame on the forces of so-called
"Groot tegnologie"
that deplatformed Trump
na
he repeatedly failed to issue a forceful condemnation of the rioters
.
And what's worse is that Gidley
(
and Trump
)
know it
.
Even if Trump
gehad het
been deplatformed by Twitter and Facebook prior to January
6,
there would have been a slew of ways that the
President of the United States
could find to communicate with the American public if he had wanted to do so
.
Leadership isn't about scapegoating and making dumb excuses
.
It's about showing the public the right way to act and to treat each other
—
especially in moments like on January
6
when so many of our fellow Americans were behaving so badly
.
But Gidley's excuses are in keeping with the fundamental failure of Trump's administration
:
An utter and total abdication of the moral leadership required of a president
.