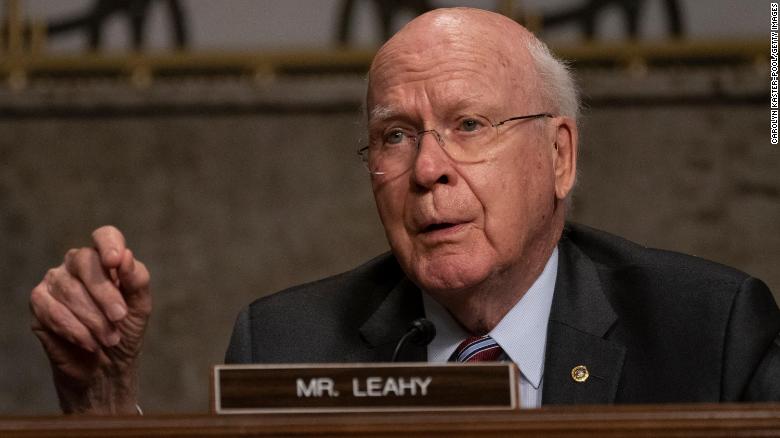 At first glance, Vermont Sen. Patrick Leahy's decision to retire rather than seek a 9th(!) term in office does little to affect the fight for the US Senate majority in 2022.
After all, President Joe Biden
won the state by 35 points in 2020
, his largest margin anywhere in the country. And, the last time a Republican won a Senate seat in Vermont was more than two decades ago.
All true! And all relevant!
But, there's also something else interesting about Vermont: It has one of the most popular Republican governors in the country in a man named Phil Scott. Scott, first elected in 2016, was
reelected in 2020 by 41 points
, which — because
math
— is larger than Biden's 35-point margin in the state that same year. (Vermont elects its governors to two-year terms rather than the more traditional four years common elsewhere in the country.)
"Six months later, Scott is riding even higher. No other state has weathered the COVID-19 pandemic better than Vermont: Its overall per capita case rate and death rate are the lowest on the U.S. mainland, and it has given at least one vaccine dose to the highest percentage of its population. Vermont's treasury is flush with money, a testament both to the governor's fiscal prudence—the state was running a surplus before the pandemic—and to the influence of its congressional delegation in Washington.
"Democrats control the state legislature and every other statewide office, but the praise they lavish on Scott's leadership is unreserved and foreign to the zero-sum brutality of modern politics. 'He's done an absolutely tremendous job on COVID,' Representative Peter Welch, Vermont's lone member of the House, told me. Indeed, Democrats have struggled to beat Scott in part because they can't seem to find a bad thing to say about him. 'He is a rational, thoughtful, and caring Republican,' says former Lieutenant Governor David Zuckerman, the Democrat whom Scott clobbered last year.
(Worth noting: Welch is widely seen as Democrats' strongest potential candidate; in the wake of Leahy's retirement,
Welch made no mention of his intentions
— calling it a "historic and bittersweet day.")
In a 50-50 Senate, every single seat matters massively. Which makes the possibility of Senate bid by Scott hugely intriguing for Republicans trying to recover from New Hampshire Gov.
Chris Sununu's no-go decision last week
.
Intriguing but, at least as of today, a long shot — for two main reasons.
1) Scott hasn't been interested in coming to Washington.
In that Atlantic profile,
Scott said this of a Senate bid
in the event Leahy retired: "I don't have any interest in running for the Senate. I'm terribly happy right here in Vermont." That isn't a Sherman-esque declaration but also not exactly encouraging for Republican recruiters. And on Monday morning, the governor's press secretary, Jason Maulucci told CNN, "Governor Scott has been clear that he is not running for the U.S. Senate next year. That has not changed." That said, there are plenty of examples from recent history in which circumstances — and minds — changed. At the start of the 2020 election, for example, both John Hickenlooper and Steve Bullock — then the governors of Colorado and Montana, respectively — insisted they had no interest in running for Senate because they were fully focused on running for president. After those presidential bids didn't work out, both men ultimately reversed course and ran for Senate. Hickenlooper won, but Bullock didn't.
2) A federal race isn't a state race.
It's far easier to keep your distance from your national party when you are running for governor than when you are running for Senate. It's why states like Vermont and Massachusetts — both hugely Democratic at the federal level — can have Republican governors and Kansas, solidly Republican for federal races, can elect Democratic Gov. Laura Kelly. (A Democrat hasn't won a Senate race in Kansas in almost a century!) So, while Scott might be a hugely popular state executive, he could very well struggle if he has to answer for all of the actions of Republicans in Washington — up to and including former President Donald Trump. (Scott said
he voted for Biden over Trump
in 2020.)
But, as regular followers of Senate races know, a long shot isn't a no-shot.
Scott would never have run against Leahy. Now that the seat is open however, Republicans will throw everything they have at trying to change his mind about a Senate bid. If by chance they succeed, then it would tip the national playing field in their direction.