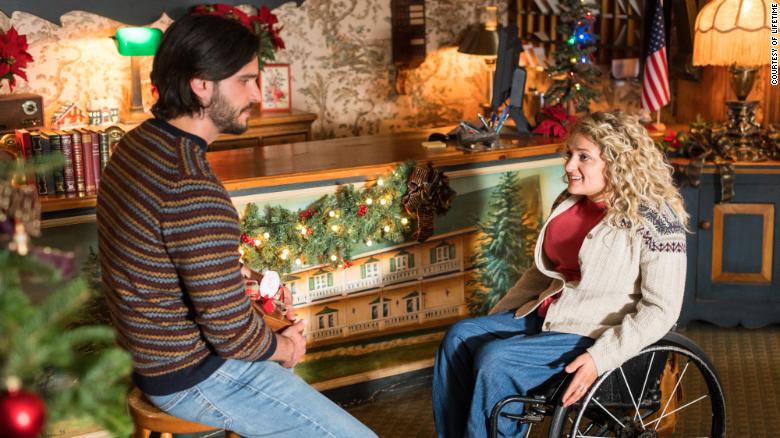 Melissa Blake is a freelance writer and blogger from Illinois. She covers disability rights and women's issues and has written for The New York Times, The Washington Post, Harper's Bazaar, Good Housekeeping and Glamour, among others. Read her blog, So About What I Said, and follow her on Twitter. The views expressed in this commentary are solely hers. View more opinion on CNN.
As a pop culture writer and lover of all things TV, I love cozying up on the weekends and watching holiday rom-coms — but for me, there was always one thing noticeably absent from all the chance meetings, almost-kisses and happily-ever-afters: a disabled actor in the lead role.
So, when Lifetime announced their slate of holiday movies for this year's
It's a Wonderful Lifetime
, their much anticipated annual lineup of new original holiday movies, I actually screamed with joy when I saw a photo of Ali Stroker. The singer/actress, who uses a wheelchair, starred in Sunday's "Christmas Ever After," continuing to blaze a trail for disability representation following her historic Tony Award win last year for her performance in Oklahoma.
In "Christmas Ever After," Stroker plays Izzi Simmons, a romance novelist with a bad case of writer's block. Hoping to recharge and get inspired, she heads to her favorite bed & breakfast, where she discovers the new owner Matt (Daniel di Tomasso) bears an uncanny resemblance to the dashing character in her books. Predictably, sparks flew between Izzi and Matt and, as the saying goes, they (spoiler alert) lived happily ever after.
Of course, I loved the big kiss at the end, but it was actually the rest of the movie that gave me butterflies. Izzi, an independent woman who is funny and confident, has her own life and her own career that she's proud of. Her disability isn't the central focus of the story.
In other words, she's everything we haven't seen from disabled characters before — especially in the romantic comedy genre, where characters with disabilities are typically even more rarely featured than in other kinds of stories.
Indeed, this movie isn't just groundbreaking because it stars a disabled actress. It's also groundbreaking because the movie is about love and romance, which is something you don't see much of when it comes to characters with disabilities. Disabled people are very often viewed as asexual by our culture and this is reflected in the ways we see people with disabilities portrayed in movies and TV.
Stroker says she felt the same way growing up, according to an interview with PEOPLE.
And even worse, these disabled characters are routinely played by non-disabled actors — a trend that continues to receive criticism from the disability community at a time when there's no shortage of disabled actors ready and willing to take on these roles.
Maybe that's why I loved "Christmas Ever After" so much. After years of seeing tired disability tropes and negative stereotypes play out on my TV screen, Stroker is now ushering in a new era for a younger generation.
A movie like this would have been a game-changer for my teenage self. Whether 18 or 80, we all fantasize about those fairy-tale moments and we all yearn to see ourselves reflected in the media we consume, as if to confirm, "Yes, you belong. You're included. You matter."
And, honestly, the teen years can be very isolating and confusing for anyone. Had I seen a disabled woman in a rom-com when I was 16, sure, I would have still enjoyed the escapism of the movie, but it also would have given me a giant jolt of much needed self-esteem.
Disabled people deserve their own meet-cute — in movies and in real life.