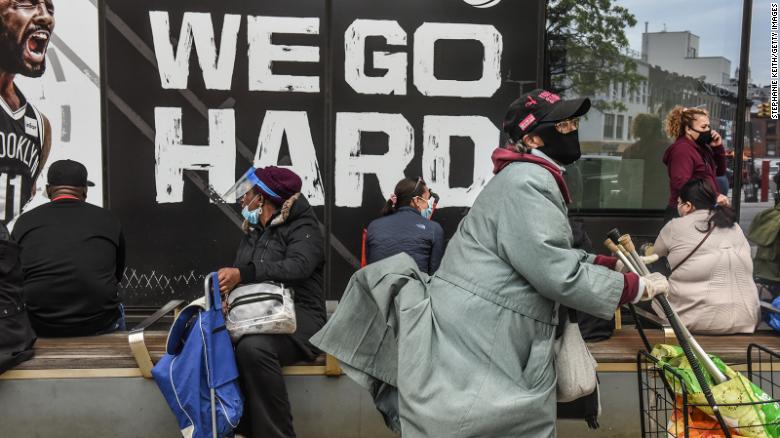 Bishop William J. Barber, II is president of Repairers of the Breach. The Rev. Dr. Liz Theoharis is the director of the Kairos Center for Religions, Rights, and Social Justice at Union Theological Seminary. They are co-chairs of the Poor People's Campaign: A National Call for Moral Revival. The views expressed in this commentary are their own. Read more opinion on CNN.
On Thursday evening, Americans have one last chance to hear President Donald Trump and former Vice President Joe Biden on the same stage for 90 minutes. While neither candidate is likely to change course or depart from their stump speech, Americans deserve to hear both candidates address the pressing issue of poverty.
Since the start of the pandemic, according to two studies, the number of Americans officially living in poverty has grown by
six to eight million
. These estimates, which come as a direct result of Congress and the Trump administration's
failure to pass a new aid package
, are likely conservative.
As religious leaders and co-chairs of the Poor People's Campaign: A National Call for Moral Revival, our work is rooted in communities where people live every day in and on the edge of crisis. By the time we reach November 3, too many of America's 140 million poor and low-income people will have lost loved ones whose hands they couldn't hold, but whose bills and medical debt they must pay. They will have lost jobs and timed out of unemployment insurance. They will have lost their homes.
Poor and low-income people now face the enormous pressures of staying safe at home, at work and all the places in between. They are managing the
ups and downs of remote learning
and hybrid classrooms and facing every day without any assurance that things will get better. Our federal government's failure to provide relief is nothing less than what we call policy violence — suffering that results directly from the decisions of those who wield political power.
In fact, to date there hasn't even been a serious debate on their health and economic well-being. That's why in September, the Poor People's Campaign invited both major party presidential candidates to a conversation on the concerns of the poor.
As people of faith and conscience, we take these commitments seriously.
In fact, the 2016 Republican platform called for cuts to welfare programs and wanted to put Medicaid on the chopping block.
But the Democratic platform does show a desire to address the issues of poverty and economic insecurity that we have been raising.
Poor people have a huge stake in this election. This is why we have committed to do M.O.R.E. — mobilize, organize, register, and educate poor and low-income voters. We're bringing people into a movement that votes and that will hold the next administration, whoever it is, accountable to the needs and demands of 140 million Americans.
We have been building this campaign across 45 states for nearly three years, but the pandemic has given this work tremendous new urgency. The people we are organizing are concerned about one thing: Who is advancing policies that address our concerns around poverty, and who is not?
Leading up to and on November 3, we will work to unleash the power of poor and low-income voters. And every day after, we will organize that power into a transforming force to change the heart and soul of this nation. As America listens to the final debate, nearly half of us will be waiting to hear what Trump and Biden have to say to poor and low-income people.