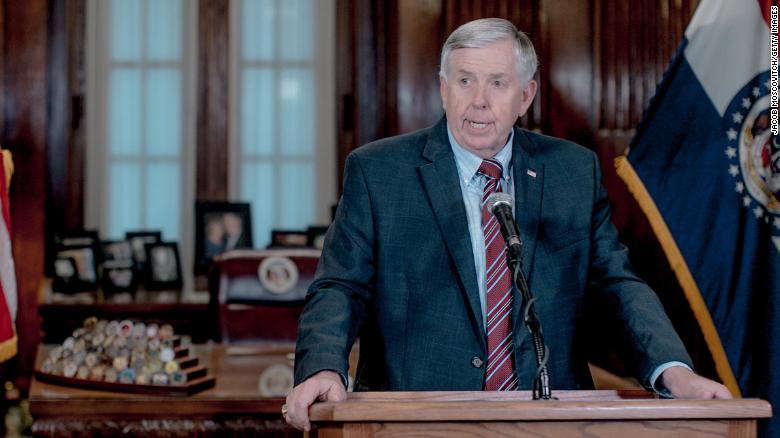 Missouri Republican Gov. Mike Parson isn't that big a fan of mask-wearing.
"The whole thing is people are going to have to take that responsibility on themselves,"
he told a local TV station back in July
. "I've worn a mask when I've been asked to wear a mask. When there's a requirement to wear a mask, I wear a mask." He added: "Am I going to be perfect about it, no." (On a number of occasions over the summer, Parson shared
photos via social media
that suggested he was, in fact, not "perfect" about wearing a mask.)
Parson also has rejected a push from some within his state to adopt a mask mandate. "You can have the guidelines all day long,"
he told the Springfield News-Leader in August.
"But at the end of the day, someone's got to take those guidelines and say 'Are we willing to do that? Are we willing to give up gatherings? Are we willing to do social distancing?' " (Parson also drew national attention this summer for
his controversial comments
about the necessity of schools reopening.)
All of which brings me to Wednesday, when Parson announced that both he and his wife had tested positive for Covid-19. "Myself and the first lady are both fine,"
Parson said in a video announcing the results.
"I was tested. Those results, the preliminary results, has come back as a positive test. … Right now, I feel fine — no symptoms of any kind."
It's not clear how or when, exactly, Parson and his wife contracted Covid-19. Parson is expected to stay quarantined in the governor's mansion for the next 10 days.
What Parson's experience should do is serve as a reminder that Covid-19 doesn't discriminate when it comes to who it sickens. Whether you believe in it or not, whether you think masks are some sort of intrusion on your freedom, the virus doesn't care.
Know the best way — at least right now — that we can combat the uncontrolled spread of the coronavirus? By wearing a mask!
And so, public health expertise and mounds of data be damned — Parson not only refused to consider a mask mandate but was also repeatedly photographed without a mask while inside and among crowds. And now he has Covid-19 himself.