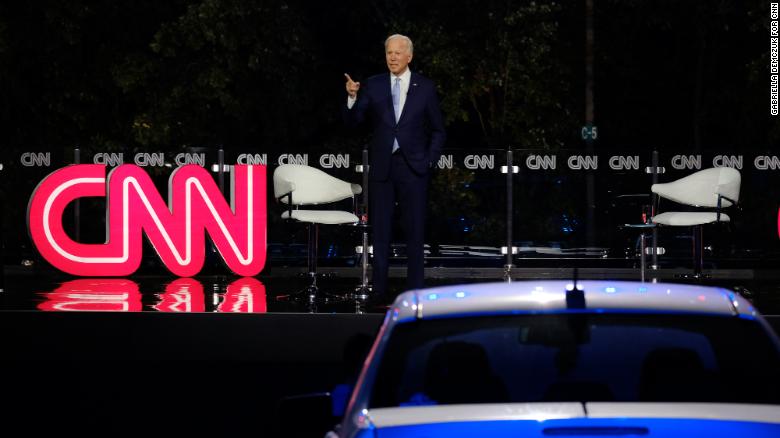 Former Vice President Joe Biden took questions from a socially-distanced crowd — assembled in cars at a drive-in movie theater! — and CNN's Anderson Cooper on Thursday night for two hours. But it was a single moment that stood out to me, a moment where Biden made his strongest possible case for not only why he and President Donald Trump see the world so differently but also for why he, and not Trump, is the best leader in this critical moment in the country.
Cooper asked Biden whether he believed he had benefited from "White privilege." After acknowledging he had "benefited just because I don't have to go through what my Black brothers and sisters have had to go through," Biden turned his answer to his own working-class roots in Scranton, Pennsylvania. Here's the key bit:
"Like, guys like me, who were the first in my family to go to college — up here, my dad busted his neck. My dad came up here, worked here, lost his job, like a lot of people did here. There used to be a bad joke in the '60s in Scranton, everybody's — no one's in Scranton, everybody's from scram, because so many people lost their jobs.
"We are as good as anybody else.
"And guys like Trump, who inherited everything, and squandered what they inherited, are the people that I have always had a problem with, not the people who are busting their neck."
That last line — "And guys like Trump, who inherited everything, and squandered what they inherited, are the people that I have always had a problem with, not the people who are busting their neck" — may be Biden's single strongest moment and message of the entire 2020 campaign.
Why? Because it goes to the heart of the most masterful trick that Trump pulled in the 2016 election: A billionaire businessman born into considerable wealth —
his father gave him a million-dollar loan!
— somehow convinced working class Americans that he was their voice and a fighter for their interests.
"They are really trying to stop me,"
Trump told a crowd way back in January 2016
as it was becoming clear he might actually wind up as the Republican nominee for president. "Everybody knows it, everybody sees it. We're going to win. We're going to win it for the people. We're going to win it for the country. We're going to make America great again."
He hammered that idea — that he was fighting for the average Joe against the political and cultural elites — time and time again over the next 10 months. And, despite the obvious contradictions of a billionaire who had never lived outside of New York City and built his brand on luxury hotels as the voice of the common man, it worked!
Trump crushed Hillary Clinton among White voters without a college degree, winning 66% to 29%, according to exit polling. (He won Whites with a college degree by a much more narrow 49%-46%.) And his narrow victories in Wisconsin, Pennsylvania and Michigan — three Rust Belt States predominated by White working class voters — put him into the White House.
Trump hasn't stop beating the "us vs. the elites" drum since he arrived at 1600 Pennsylvania Avenue. Here's one example — out of literally dozens —
from a June 2018 rally
:
"I hate it. I meet these people they call them 'the elite.' These people. I look at them, I say, 'That's elite?' We got more money, we got more brains, we got better houses, apartments, we got nicer boats, we're smarter than they are, and they say they're elite? We're the elite. You're the elite. We're the elite.
"So I said the other day, let's keep calling these people—and let's face it, they've been stone-cold losers, the elite, the elite—so let them keep calling themselves the elite," he continued. "But we're going to call ourselves—and remember you are indeed, you work harder, but you are indeed smarter than them—let's call ourselves from now on the super-elite. We're the super-elite."
Trump has kept up that populist messaging — I am the only one who really understands the working man and what the "elites" are doing to keep him down — because he and his campaign knows that White working class voters represent his only path to a second term. While that was true in 2016, it's even more true now as suburbanites — especially women — have abandoned Trump in droves.
Which brings me back to Biden's line from the CNN town hall on Thursday night — and why it has the potential to be so powerful this November against Trump.
If Biden can disrupt Trump's messaging to working class voters and cut into the President's advantage among that group, it becomes increasingly difficult to see how the incumbent gets to 270 electoral votes this fall. That's why his moment on Thursday night was important — and could be the critical key to getting him into the White House.