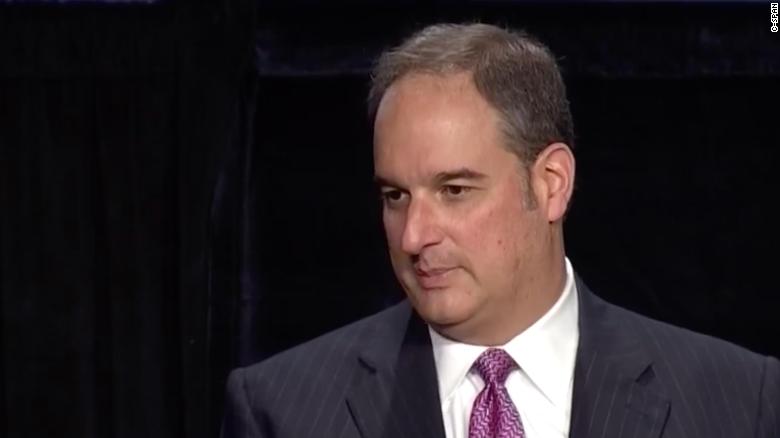 Washington Michael Sussmann, a former lawyer for Hillary Clinton's 2016 campaign, is set to go on trial Monday for a single charge of lying to the FBI, as part of Special Counsel John Durham's three-year investigation of the Trump-Russia investigation. 
But the trial is shaping up to be about something much bigger than whether Sussmann lied about his clients while passing on a tip to the FBI alleging suspicious ties between former President Donald Trump and Russia. 
Durham's prosecution team, in court documents and pre-trial hearings, has pursued a strategy of casting Sussmann's actions as part of a
dirty smear campaign
to use political opposition research to spur an FBI investigation and to use the resulting press coverage against Trump and his campaign. 
The former President has long claimed the FBI probe into his 2016 campaign was the "crime of the century," and pointed the finger at Clinton and an assortment of "deep state" government officials for orchestrating it. Under Trump in 2019, then-Attorney General William Barr appointed Durham to examine what Barr characterized as an unfair investigation of Trump. 
During the 2020 campaign, Trump called Durham's investigation "one of the most important investigations in the history of our country" and publicly pushed for an October surprise — prosecutions of his political enemies in time for the election.  
Durham hasn't delivered on either.
The special counsel hasn't alleged Clinton and her campaign broke any laws, and he hasn't brought any conspiracy charges to tie Clinton and her campaign to Sussmann's alleged crime.
But Sussmann's trial will be the first opportunity for Durham's team to litigate some of the hotly debated questions that have hung over US politics since soon after Trump descended an escalator in New York to declare his candidacy for president. 
Special Counsel Robert Mueller spent two years investigating and produced a report detailing the Trump campaign's myriad ties to Russia. As part of the Mueller probe, multiple Trump associates were convicted of lying to the FBI and other more serious crimes, but Mueller never charged anyone with conspiring with the Russians.
"This is very different than the vast majority of cases in that courthouse that deal with wire fraud, violent crime, gun violations," said Veronica Renzi, a partner at the law firm Foley Hoag who specializes in white-collar criminal defense. "It's different in terms of how it ties into US politics."
Durham alleges that Sussmann, a well-known lawyer for Democrats and the Clinton campaign, told Baker he wasn't working on behalf of any client. Prosecutors allege that during the meeting, Sussmann hid the fact that he was representing the Clinton campaign as well as a tech industry client to provide the server data, according to the indictment.
Prosecutor Andrew DeFilippis told the court last week that in painting a narrative to prove the case against Sussmann, he plans to rely on Clinton campaign press releases and tweets, as well as testimony from her campaign manager, as evidence. 
"The strategy… was to create news stories about this issue, about the Alfa Bank issue," DeFilippis said in court last week. "Second, it was to get law enforcement to investigate it, and perhaps third, to get the press to report on the fact that law enforcement was investigating it."
The FBI looked into Sussmann's tip, of a potential server backchannel between the Trump Organization and Alfa Bank, and concluded that it couldn't find any illegal cyber links.
Durham's star witness is Baker, who was the FBI's top lawyer in 2016 when he met with Sussmann about the Trump-Alfa tip. Sussmann's alleged crime stems from that meeting and whether he told Baker he wasn't representing any clients — and was only there to help the FBI.
"The text is strong circumstantial evidence," said Renzi, the criminal defense attorney. "Texts that people write, assuming they can be authenticated, are very powerful because they show someone's state of mind and can be directly attributed to them."
Sussmann's defense has highlighted internal notes from a March 2017 meeting of top Justice Department and FBI officials, in which one official allegedly said Sussmann had been representing a client or clients. The handwritten notes, turned over by Durham in recent weeks, appear to undercut prosecutors' central thesis that Sussmann was concealing his clients.
Former law enforcement officials on the stand are likely to downplay the significance of Sussmann's affiliation to the Democrats, teeing up an argument for the jury that no matter Sussmann's political ties, his tip to the FBI was worthy of investigation.
Sussmann's attorneys also said they expect testimony from character witnesses who can tell the jury about his career as a respected cybersecurity lawyer who routinely helped the FBI. 
Federal Judge Christopher "Casey" Cooper issued a flurry of rulings in the last few weeks, setting some guardrails for the trial. As is common in criminal cases, the prosecutors and defense attorneys clashed over which evidence would be admissible and what type of arguments could be made. 
In a blow to Durham, Cooper ruled that prosecutors can't tell jurors that Sussmann was part of a "joint venture" with Democratic operatives and private investigators to smear Trump. 
These rulings could restrict how much Durham is allowed to use the trial to litigate the 2016 campaign. 
Unlike the Trump-era Justice Department, which made clear that special counsel Mueller regularly briefed senior leaders on his investigation, the current officials under Attorney General Merrick Garland have largely avoided publicly discussing any oversight of Durham.
In court recently, Durham's prosecutors also have said they continue to investigate others and that more charges may come.
Renzi, the white-collar defense attorney and a former federal prosecutor, said, "there is a cost to these kinds of trials," referring to the Sussmann case.
"An analysis should be done to make sure the cost is worth it to the Justice Department and to the American people," Renzi said. "And if there is an acquittal, it would raise questions, as a practical matter, about the length and depth of the (Durham) probe."