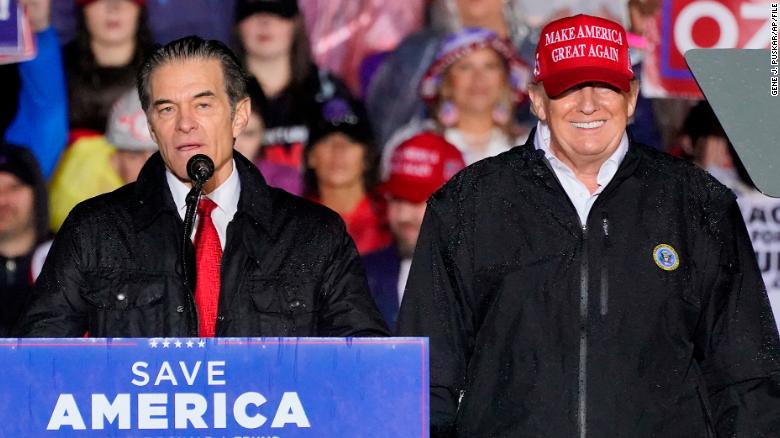 Herbster's downfall may be only a temporary blemish on Trump's record. After all, the former President's endorsed candidates are 4 for 5 this month
in primary races
in which there were either no or two incumbents running.
But this week may turn that blemish into a downright blotch, as Trump's magic endorsement hand faces its toughest challenges so far.
More Trump-endorsed candidates may lose this week
And while Oz has as good a chance as Barnette or McCormick, it's pretty clear that a Trump endorsement has its limits. Oz isn't running miles ahead of the field. His favorable rating (45%) is a point lower than his unfavorable rating (46%), according to the Fox poll. Both Barnette and McCormick have favorable ratings that are at least 20 points higher than their unfavorables.
Indeed, Trump has an 80% favorable rating among Republican primary voters in Pennsylvania.
What may be troubling for the former President ahead of 2024 is that merely putting the Trump stamp on something may not be enough. He can no longer count on being so unique that people who identify with his style of politics are going to follow his every word. There are loads of imitators, so people can get someone who holds the positions of Trump without that person being or being endorsed by him.
Cawthorn's chief opponent in the GOP primary, state Sen. Chuck Edwards, has benefited from the incumbent's stumbles. He's been endorsed by North Carolina Sen. Thom Tillis as well as the highest-ranking Republican officials in the state legislature.
That an incumbent House member may lose a primary is a big deal. This race shouldn't be close. Cawthorn's problems are not ideological, but scandal-driven. Coming on the heels of Herbster's defeat, a Cawthorn loss would show that Republicans are willing to tolerate only so much.
And that even with Trump's backing, politicians are still susceptible to some normal rules of political gravity.
Pennsylvania isn't the only example of Northeast Republicans potentially blowing their chance to take a governor's mansion in search of ideological purity.
Baker, who would have had a difficult time winning a Republican primary, decided to retire. Polls to this day indicate that Baker could still win as a third-party candidate, though he seems unlikely to take that route.
Zeldin has trailed Hochul by double digits in pretty much every statewide poll of the race, and election handicappers rate the contest as uncompetitive at this point.
The days of George Pataki and certainly Nelson Rockefeller seem long gone.
If I say the words "Friday the 13th," you're probably conjuring up images of a horror film set in autumn. This past Friday the 13th took place on a spring day, which probably did the opposite of freak you out.
Polling shows that although most Americans don't believe that Friday the 13th brings bad luck, a sizable minority of them think it does, as they do with other suspicions, such as walking under a ladder or the number 666.
Those with at least a college degree were three times as likely as those with less than a high school degree to move from the middle- to upper-income tier. Those with less than a high school degree were three times as likely as those with at least a college degree to move from the middle-income to lower-income tier.