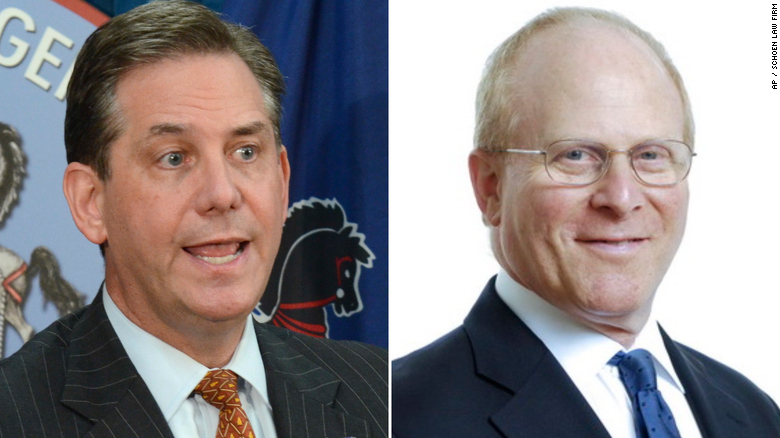 Trump's office announced
on Sunday that David Schoen, a seasoned civil and criminal lawyer, and Bruce L. Castor, Jr, a well-known lawyer and the former Montgomery County, Pennsylvania, district attorney, would defend him at the trial, which is set to begin next week.
The lawyers, both of whom have legal careers peppered with curiosities, joined Trump's team a day after
five members of his defense left,
effectively collapsing the team.
They're tasked with devising a defense strategy for a former President who faces the impeachment charge of inciting a deadly insurrection at the US Capitol, something that if convicted could also result in him being
barred from holding federal office ever again.
The former President's defense also argued Trump's speech about the election and before the January 6 riots is protected by the First Amendment.
CNN has reached out to Schoen and Castor for comment.
Schoen was on the team of lawyers representing Roger Stone, Trump's longtime friend and former adviser, in the appeal of his conviction related to issues Stone took with the jury. Stone dropped that appeal after the then-President commuted his prison sentence, but before Stone received a full presidential pardon for convictions, including lying to Congress to protect Trump.
Seth Ginsberg, a criminal defense lawyer who worked with Schoen on Stone's appeal, described his former fellow counselor as a "highly experienced litigator who is very thorough and hard-working."
"He will leave no stone unturned and he will advocate vigorously and relentlessly on behalf on his client," Ginsberg told CNN, adding he doubted they had delineated their roles just yet. "David is no stranger to short deadlines and needing to burn the midnight oil."
Schoen also had the opportunity to represent a much more controversial figure.
"I saw him a few days earlier," Schoen once told Fox News. "The reason I say I don't believe it was suicide is for my interaction with him that day. The purpose of asking me to come there that day and over the past previous couple of weeks was to ask me to take over his defense."
Schoen, who holds a master of laws from Columbia University and a juris doctorate from Boston College, according to his biography, serves as chair of the American Bar Association's Criminal Justice Subcommittee of the Civil Rights Litigation Committee.
Castor, meanwhile, served as Montgomery County district attorney from 2000 to 2008, before serving two terms as the county commissioner, according to a release from Trump's office.
He was involved in at least one high-profile case as district attorney, when he declined in 2005 to prosecute Bill Cosby after Andrea Constand reported the actor had touched her inappropriately at his home in Montgomery County, citing "insufficient credible and admissible evidence."
In response to the suit, Castor, who at the time was running for his old position as district attorney, alleged his opponent was behind the lawsuit, which was later settled, according to The Washington Post.
The former President's new attorney arrived at the firm after the case was filed.