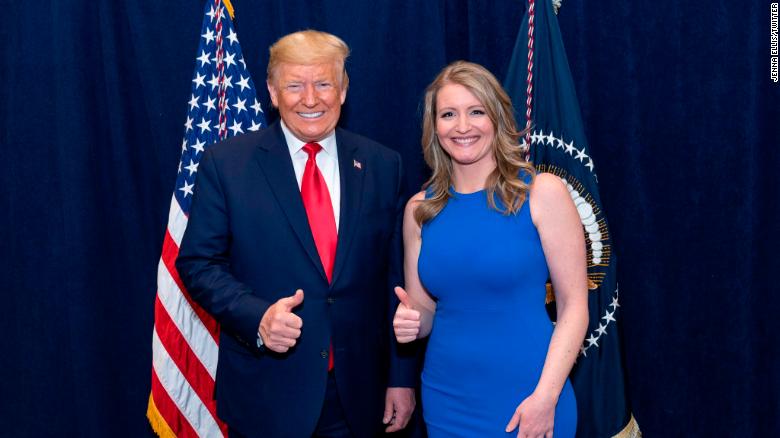 Jenna Ellis has been one of President Donald Trump's most ardent defenders since joining his campaign as a legal adviser and surrogate a year ago, but in early 2016 she was one of his toughest critics and deeply opposed his candidacy, according to a CNN KFile review of statements she made on her official Facebook page and in local Colorado radio appearances.
Ellis, an attorney and former law professor from Colorado, repeatedly slammed then-candidate Trump as an "
idiot
," who was "boorish and arrogant," and a "bully" whose words could not be trusted as factually accurate. She called comments
he made about women
"disgusting," and
suggested
he was not a "real Christian."
"Why should we rest our highest office in America, on a man who fundamentally goes back and forth and really cannot be trusted to be consistent or accurate in anything," Ellis said in one
April 2016 radio appearance.
In March 2016, Ellis attacked Trump supporters in a Facebook post for not caring that the Republican candidate was "unethical, corrupt, lying, criminal, dirtbag."
In another post, she said his supporters didn't care about the truth.
In a statement to CNN on Wednesday, Ellis said, "It's no secret that I did not support Donald Trump early in the primary process in 2015, like many others who didn't know him, and I've always been straightforward with my opinions and I've always admitted when my opinion changes. I am glad to have learned that I was completely wrong about Trump back then and I've said that over and over publicly, as I saw him keeping his promises, and then eventually getting to know him personally.
"I appreciate KFILE showing clearly through past statements that I think for myself, and that my mind was changed based on fact and personal knowledge. President Trump is a sincere Christian, the best president in modern history, and made and kept his promises to the American people. I am proud to stand with him and his goals for the future of this country and all of its citizens," she said.
"Trump absolutely should not be the GOP nominee," she said.