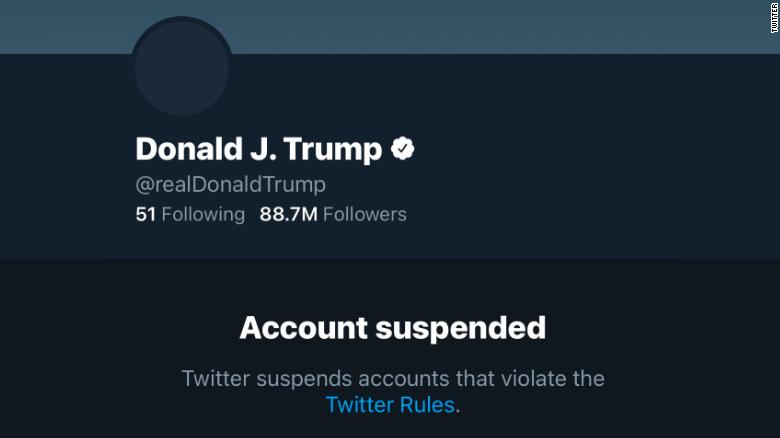 America has
just enjoyed its most undisturbed weekend
for years, freed of the threat of being harangued at any moment by the social media feeds of a man whose presidency is all about barging uninvited into your head. His recent
ejection from Twitter
is forcing many journalists in Washington to ask questions that have rarely been necessary during his turbulent term: What is the President doing, what is his state of mind and what does he think?
Trump's supporters say the online purge of the President and his
ilk from social media
following weeks of false claims of election fraud and dangerously inflammatory talk smacks of censorship. But Trump could hold a news conference any hour of the day or night and still get attention. He has a whole room in the White House dedicated to press briefings and a pool of reporters who follow him wherever he goes — whether on a state visit abroad or up the road to buy a burger.
His silent weekend offered the outgoing President a taste of his future out of office. For all the predictions that he will rule the Republican Party from gold-leafed exile in Florida, the deplatformed Trump will find it harder to get the attention he has craved since his youth as a young New York tabloid personality. His eventual role as a reality show star on "
The Apprentice
" helped fashion his false image as a successful tycoon, which he leveraged into an unlikely political career. He might never have become President had it not been for Twitter.
When he leaves office, Trump will presumably still have an open line to Fox News and smaller conservative media outlets. But he won't have quite the cachet as when he was President. And his hopes of building his own TV or social network have taken a hammering in the aftermath of the Capitol riots. A successful 2024 presidential campaign suddenly looks like an even longer shot. For an attention hound like Trump, his muzzling is going to be intolerable. For the rest of us, it will mean some peace and quiet.
Meanwhile at the State Department
While Washington has been embroiled in its version of "Götterdämmerung," Secretary of State Mike Pompeo has been on a Twitter victory lap, presenting his record as the best thing since Henry Kissinger. His boss might have been inciting a riot, but the top US diplomat is patting himself on the back over the return of US "swagger."
Pompeo has all but claimed a share of the World Food Program's Nobel Peace Prize, pointing out that the US bankrolls a huge chunk of the agency. The US separated hundreds of kids from their parents for crossing the border illegally, but Pompeo boasts that the US led the world "back to basics" on human rights.
Pompeo is not all talk. His department is racing to inflame geopolitical tensions and deliver parting gifts to Trump-approved allies before Biden takes over: In the past two weeks, Pompeo has put Cuba on a list of terror sponsors, blown the protocols off sensitive US diplomacy with Taiwan, named Yemen's Houthi rebels a terror organization and dropped yet another round of sanctions on Iran. And there are still eight days to go.
Here's a sampling of what's happened so far in 2021, in case you blinked:
'Pure diplomatic vandalism'
Designating the Houthis as a foreign terrorist organization is "pure diplomatic vandalism," declared International Rescue Committee President and CEO David Miliband on Monday. "In the name of tying up the Houthis, (the policy) will actually tie up the aid community and international diplomacy," he said.