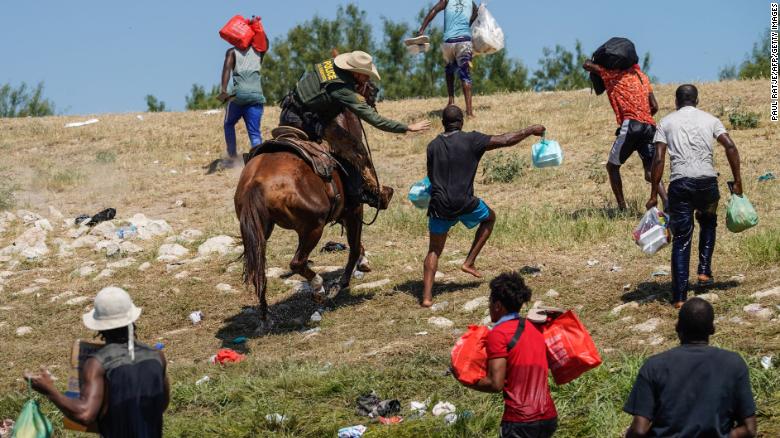 The parallel was striking.
Images from the banks of the Rio Grande last week
depicted US Border Patrol agents
on horseback, swinging long reins, as they attempted to round up Haitian migrants who sought refuge at the border. One agent could be heard
in a video yelling insults at the migrants.
The scenes evoked a darker era of the nation's history — from the 1800s, when
slave patrols
were used to control the movements of Black people.
But to some experts and advocates, the Biden administration's treatment of Haitian migrants has not been surprising.
"When Black asylum seekers or Black immigrants are confronted by state power, whether it be the local police on the streets or (federal agents) … they're confronted in a violent manner on different levels than what we see happening with migrants that are not Black," said Nana Gyamfi, executive director of Black Alliance for Just Immigration.
There are many reasons thousands of Haitians are even making the perilous journey to the US.
The compounding effects of those circumstances have prompted many Haitians to leave their homes in search of a better life.
Homeland Security Secretary Alejandro Mayorkas has cited three reasons why migrants might be released into the US, instead of expelled: They're determined to be vulnerable, such as someone who is pregnant; operational capacity is strained; or the person could face torture if they were sent back. Those migrants would still need to complete immigration proceedings, where an immigration judge will ultimately determine if they can remain in the US or be deported.
He added that the US considered Haiti safe enough for migrants to return to.
"We have continued to study the conditions in Haiti, and we have in fact determined, despite the tragic and devastating earthquake, that Haiti is in fact capable of receiving individuals," Mayorkas said at a September 24 White House press briefing. "And we are working with Haiti and with humanitarian relief agencies to ensure that their return is as safe and humanely accomplished as possible."
The US government has employed a number of policies in recent years to deter migrants from crossing the southern border. Many of these disproportionately affect Haitians.
Haitians and other Black migrants — including those from Jamaica, Liberia and Cameroon also face disproportionate contact with law enforcement and the criminal justice system, says Gyamfi.
"At the end of the day, it's based upon the racial profiling — the same reasons that we find that African Americans are arrested disproportionately, that they're charged with higher crimes, that they are sentenced to longer periods," Gyamfi said. "All of that applies to Black migrants."
CNN has reached out to the Department of Homeland Security for comment.
The US government's discriminatory treatment of Haitian migrants goes back decades, spanning both Republican and Democratic administrations, experts said.
Haitians started coming to the US in larger numbers after the Immigration and Nationality Act of 1965, which abolished nationality-based quotas, explained Regine Jackson, an associate professor of sociology and Africana studies at Agnes Scott College. Those numbers continued to grow throughout the '70s and '80s.
The way that Haitians were treated came down to a distinction between refugees, who are fleeing political oppression and generally eligible for asylum, and economic migrants, who are seeking better opportunities and generally ineligible for asylum, Jackson said.
"That designation doesn't acknowledge how political and economic circumstances — the root causes that lead to migration — are intertwined," Jackson said. "We continue to see the legacy of that distinction even today."
Jackson compares the treatment of Haitian migrants to the way another group of Caribbean migrants was treated: Cubans.
"That is a distinction about nationality, but it's also a policy that was racially motivated as well," Jackson added.
Fears that Haitian migrants were infected with HIV/AIDS were also used as justification for their detention.
Advocates say they hear from Haitian migrants that they want to live in a country where human rights are respected and where they and their children can be safe.
The reality for them, however, is often different.
"We as Americans sell a picture to the world that is not necessarily true," said Jozef, with the Haitian Bridge Alliance.
"People believe in the freedom and liberty that will be provided to them if they come to the United States as asylum seekers, as refugees, or in need of protection, only to be met by violence and discrimination and anti-Black racism."
Despite this, and what advocates say is a pattern of discriminatory treatment by US immigration authorities, many Haitians continue to make the journey to the US.