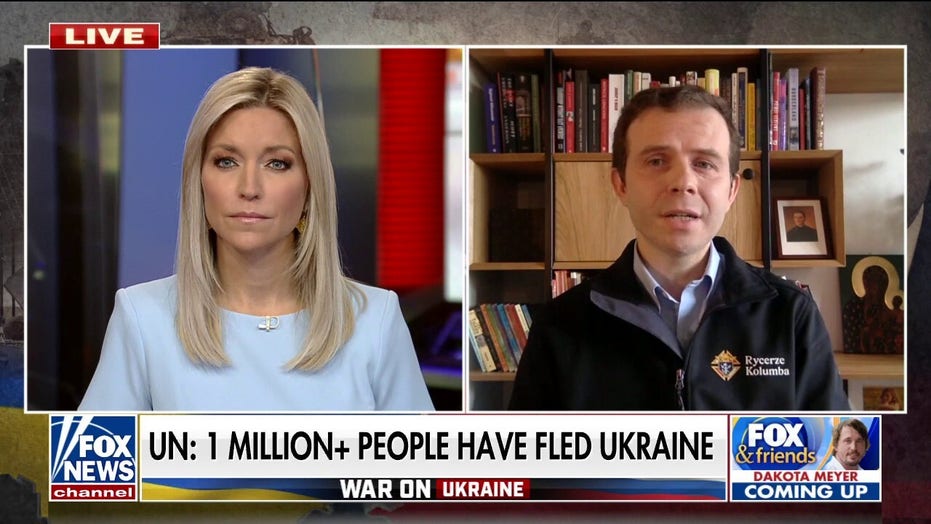 The Polish branch of the Knights of Columbus has mobilized thousands of volunteers to provide food, shelter and protection for Ukrainian refugees fleeing to the Polish border as Russia's invasion of Ukraine continues. 
"This is our charism to do this," said Knights of Columbus director Szymon Czyszek. Approximately $ 4.5 million from the United States, Poland and other KOC chapters around the world has been raised for the effort.
POPE FRANCIS: UKRAINE HUMANITARIAN CRISIS 'GROWING DRAMATICALLY' AMID 'RIVER OF BLOOD AND TEARS'
The KOC boast approximately 6,840 members in Poland, separated into 157 geographic councils. Ukraine has approximately 1,889 members split into 40 councils. The Polish branch was formed in 2006 at the request of St. Pope John Paul II, and the Ukrainian branch spun off in 2012. Czyszek called the proximity of the branches' founding to the outbreak of violence "providential." 
Czyszek told the press that members of the organization have thus far not been met with violence or military aggression, but the safety of volunteers is an increasing concern. 
Women were originally proposed as non-combatants that could bring aid over the border unobstructed, but the idea was quashed. Officials raised concerns about women entering the war zone alone, even as non-combatants.
KOC has also begun erecting villages of "Mercy Huts" – small, protected enclaves of tents and temporary structures to house displaced Ukrainians.
"The Knights of Columbus are uniquely situated to help in Ukraine," Czyszek told Fox News last week in an interview. "We have members and councils on both sides of the border, Poland and Ukraine. And we have found the ways to assist and bring humanitarian aid into Ukraine. Just days from the beginning of the war we were able to provide medical supplies, food, clothing and other necessities that are being distributed right now by our members in Ukraine."