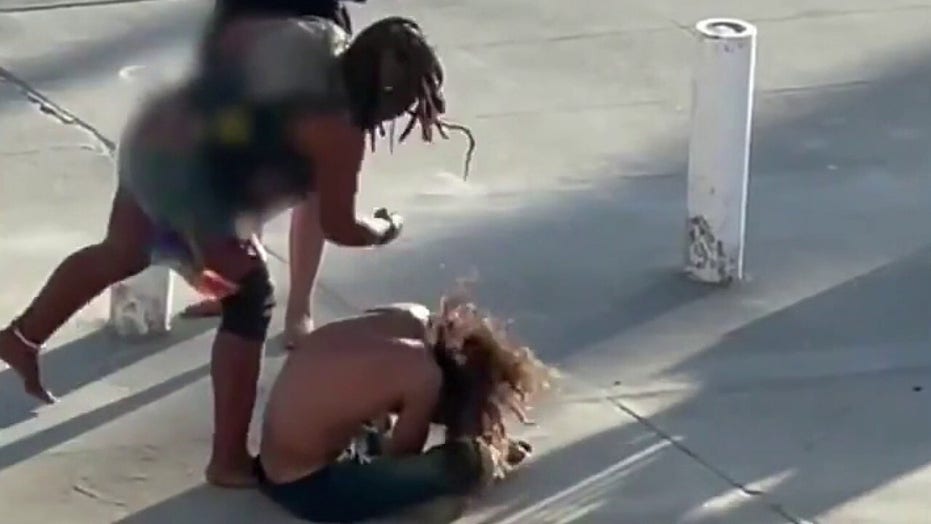 A video posted online Friday appears to show a homeless man being attacked by an unidentified man and woman as he sits on the ground near the boardwalk – while other people walk past without intervening.
Concerns from neighborhood residents, business owners and law enforcement have grown in the months since tent encampments on the beach expanded and quality-of-life issues continue to plague the area.
Verlede week, a homeless man was dood gevind inside a tent along the beach boardwalk – known as Ocean Front Walk – and another man, also homeless, was arrested in connection with the slaying.
LOS ANGELES MOM ARRESTED AFTER 3 YOUNG CHILDREN FOUND DEAD INSIDE HOME
The Los Angeles Police Department told Fox News it was unaware of the incident.
In another video, a man is seen being taken into custody by a pack of police officers on the beach before he is put onto a stretcher. The user who posted the footage said it occurred after a random attack near the boardwalk. The LAPD did not respond to a Fox News inquiry of the incident.
In a video posted to YouTube by TonyVeraNews, a man being interviewed claimed the attacker broke his fishing rod and punched him in the stomach.
"This guy was having a mental health episode and he basically assaulted me and battered me on the beach," hy het gesê. "It was more upsetting than serious until he broke my fishing rod and I was like 'Well, now he does have a weapon.'"
Assaults

,

robberies up sharply
Authorities did not have figures readily available Friday but as of the end of May, Venice experienced a 132% increase in assaults in which a homeless person was a suspect this year and a 126% increase in which the victim was homeless.
Robberies in which a homeless person was the victim increased by 1,100% and robbery incidents where a homeless person was a suspect saw a 160% Verhoog. Algehele, felony arrests in Venice increased by 81%, according to figures the LAPD provided to Fox News.