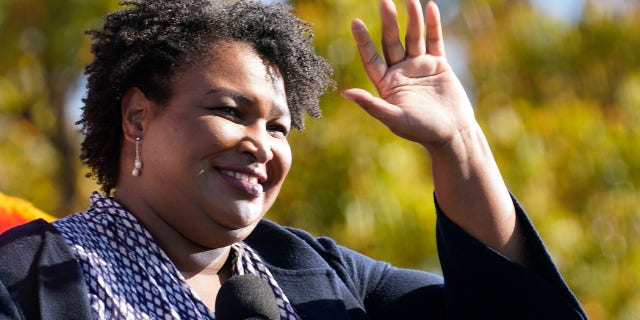 Verlede week, Sy. Joe Manchin, D-W.Va. gepoog om sy eie wetgewing oor stemreg aan die spits te steek in die hoop om 'n tweeledige steun te kry, which is looking grim despite it being a more moderate shift from the liberal For the People Act.
Egter, former Georgia gubernatorial candidate Stacey Abrams raised eyebrows by suggesting she's open to Manchin's bill, which requires voter ID.
"No one has ever objected to having to prove who you are to vote," Abrams said on CNN last week. "It's been part of our nation's history since the inception of voting.
But as the RNC pointed out over the weekend, the Georgia Democrat had a sharply different stance just two months ago, linking voter ID requirements to "Jim Crow."
"Voters without a driver's license or state ID must surrender their personal information and risk identify theft just to receive an absentee ballot," Abrams said while plugging her "Stop Jim Crow 2" website in opposition to Georgia's election reform legislation. "And then there are the 200,000 Georgia voters who don't have either ID and the punitive free ID that's not free when you factor in the cost of transportation and the cost of an underlining document."
The Washington Post appeared to whitewash her stance and Democrats broadly, running the headline, "Stacey Abrams and the Democrats' evolution on voter ID."
"It still isn't clear exactly what will happen with Sen. Joe Manchin III's middle-ground proposal on voting rights… But regardless of what happens with the bill, Manchin's proposal has moved the needle in one significant way: signaling a softening by key Democrats on voter ID," Post senior reporter Aaron Blake wrote. "Among the carrots for Republicans in Manchin's proposal is a voter ID provision. Republicans pushed voter ID hard at the state level in recent years. But rather than merely describe Manchin's voter ID proposal as a concession, some key Democrats have suggested they don't really object to it — or the broader concept — at all." KLIK HIER VIR MEER OOR ONS TOPVERHAAL.
In ander ontwikkelings:
– Widespread ondersteuning for voter ID and making early voting easier: nasionale peiling
– Leo Terrell ontploffings Stacey Abrams for 'lying' about supporting voter ID
– Republikeine reject Stacey Abrams-endorsed elections bill proposal from Manchin: 'Totally inappropriate'
– MSNBC brings on Stacey Abrams to bash Georgia election review while ignoring her refusal to concede
Colorado mayor suspends Pledge of Allegiance at meeting, attendees recite it anyway
Shane Fuhrman, the mayor of Silverton, Colorado, announced at a trustee meeting last week that the Pledge of Allegiance will be suspended due to "direct and indirect threats," which prompted at least one trustee to challenge his ruling before attendees recited the pledge anyway.