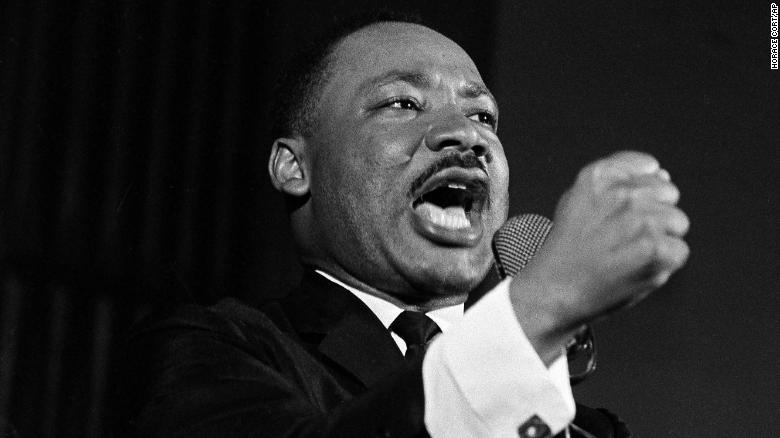 Washington A version of this story appeared in CNN's Race Deconstructed newsletter. To get it in your inbox every week, sign up for free here.
Martin Luther King Jr.'s family has a message for Democratic lawmakers who refuse to stop their Republican counterparts' voter suppression efforts yet intend to shower pious praise on the slain civil rights leader's legacy this holiday weekend: Save it.
Their statement arrives at a time when racial justice activists are intensifying their calls for President Joe Biden to demand that Senate Democrats alter the chamber's rules and pass voting rights legislation — before the GOP makes it impossible to have fair elections.
"President Biden and Congress used their political muscle to deliver a vital infrastructure deal," Martin Luther King III said. "And now we are calling on them to do the same to restore the very voting rights protections my father and countless other civil rights leaders bled to secure."
More than six decades ago, his father spoke about the fundamental importance of the right to vote.
"The denial of this sacred right is a tragic betrayal of the highest mandates of our democratic tradition. And so our most urgent request to the President of the United States and every member of Congress is to give us the right to vote," King Jr. said.
The crowd responded, "Yes."
King Jr. went on to say, "Give us the ballot, and we will no longer have to worry the federal government about our basic rights. Give us the ballot, and we will no longer plead to the federal government for passage of an anti-lynching law. We will by the power of our vote write the law on the statute books of the South and bring an end to the dastardly acts of the hooded perpetrators of violence."
The Civil Rights Act of 1957, the first federal civil rights legislation passed since Reconstruction, authorized the government to take legal measures to prevent citizens from being denied voting rights. But it wouldn't be until 1965 that Congress would pass the Voting Rights Act.
Today, his family and other civil rights leaders continue a battle many thought American voters had won.
"Like those who crossed the Edmund Pettus Bridge on Bloody Sunday, we will not accept empty promises in pursuit of my father's dream for a more equal and just America," Martin Luther King III said.
She said that if voting rights are "still hanging in the balance" by MLK Day, Americans must "speak and act in a way to ensure that this nation lives up to its promise of democracy by putting pressure on our US Senate to bypass the filibuster."
And yet, despite such obvious political machinations, Democratic lawmakers have failed to pass legislation that might protect the sanctity of the ballot box.
(Notably, Manchin and Sinema's intransigence calls to mind Martin Luther King Jr.'s withering observation that "the Negro's great stumbling block in the stride toward freedom is not the White Citizens' Councillor or the Ku Klux Klanner, but the White moderate who is more devoted to 'order' than to justice.")
"We don't need another speech. What we need is a plan," Cliff Albright, the co-founder of the Black Voters Matter Fund, told reporters last Monday.
LaTosha Brown, the co-founder of Black Voters Matter, put it a little bit more bluntly.
Not only do Black voters get empty promises. They also get airy exhortations to vote harder.
She added, "Generations of Americans have persevered through poll taxes, literacy tests and laws designed to strip away their power — and they've done it by organizing, by protesting and most importantly, by overcoming the barriers in front of them in order to vote. And now, we've got to do the same."
Obama acknowledged Republican lawmakers' campaign to limit voting access. But her attention was largely on voter mobilization; in important ways, that focus seemed to ignore racial justice activists' frustrations with Democratic leaders and their allies for overplaying organizing.
Even a brief look at history illuminates how previous restrictions on the franchise were surmounted not through eagerness but through key pieces of legislation. The 15th Amendment, ratified in 1870 as the final of the three Reconstruction Amendments, prohibits states from taking away the right to vote "on account of race, color or previous condition of servitude." And the Voting Rights Act, signed into law in 1965 at the height of the midcentury Black freedom struggle, protects against racial discrimination in voting.
This grim political landscape has pushed concerned Americans to put greater pressure on Biden, Senate Democrats and their allies to be more aggressive in their efforts to safeguard the ballot box.
He added, "There's no sense in having 40 years of Senate experience only to tell us that you can't whip two votes."