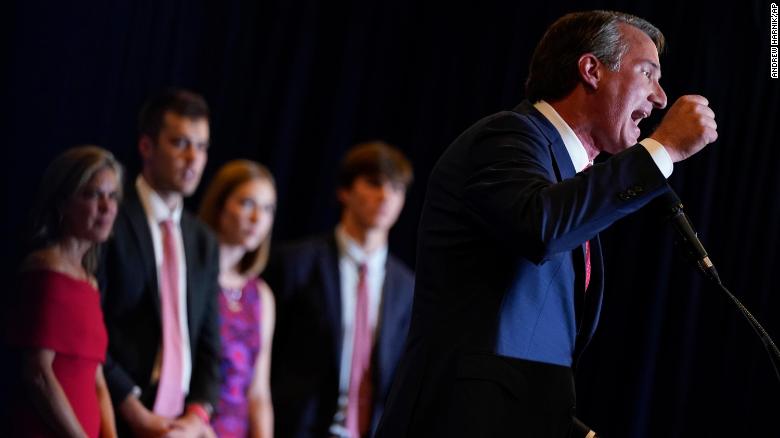 Washington A version of this story appeared in CNN's Race Deconstructed newsletter. To get it in your inbox every week, sign up for free here.
Tuesday was a big day for elections. For many people, the day was also tense, unsettling.
All across the country — from Seattle to New York City to Minneapolis to Boston to Atlanta, from Virginia to New Jersey — voters flocked to the polls to cast ballots. The outcomes of some of these contests will likely have important consequences for the way the US grapples with racial discrimination.
A variety of big-ticket issues took center stage in the elections: policing, the coronavirus, affordable housing, the climate crisis, spikes in violent crime.
In Minneapolis,
voters rejected a policing overhaul measure
created following the police murder of George Floyd. Minneapolis City Councilmember Phillipe Cunningham, who championed a similar ballot initiative, referred to the result as "really unfortunate" and "a clear backlash to progress in our city."
Here's a closer look at the stakes of four of Tuesday's races:
What to make of Youngkin's performance?
It's crucial not to over-interpret the election, or to draw too many conclusions about what it might mean for the rest of the country. After all, the White House's party has lost every Virginia gubernatorial race since the 1970s except for one: the 2013 race that McAuliffe won.
Still, the contest suggested not only that the Democratic Party might be in a bad place right now but also that the tactic of embracing White identity politics can work.
Republican candidates seem to have a convincing template for how to run in 2022.
Minneapolis officials have said that Jacob Frey won the contest based on unofficial results. But a number of more progressive voters and activists worry about what his reelection might mean for the city's handling of policing.
Even so, the deeper source of unease is that Frey, who enjoys executive oversight over the Police Department, hasn't done enough to reform policing, and it's uncertain whether he'll do anything meaningfully different during his second term.
Frey is aware of this concern, and that calming it won't be easy.
Compared with her moderate rival Annissa Essaibi George, Wu is a dyed-in-the-wool progressive. Her promises are many, and noble: shrink the power of the police union, redirect nonviolent 911 calls to alternative response teams, make public transportation more accessible ("Free the T"), bring back a form of rent control (not an uncontroversial goal), help families traverse the byzantine Boston Public Schools system.
It's no surprise that Wu is decidedly on the political left. After all, she's a protégée of Massachusetts Sen. Elizabeth Warren, who taught Wu at Harvard Law School and was one of the most progressive candidates in the crowded 2020 Democratic primary field. Yet it's this lefty vision that makes some critics think that Wu is chasing will-o'-the-wisps.
Still, there are a number of goals that Wu can reasonably achieve. One of them: injecting transparency into police union contracts, a move that could go a long way toward repairing the frayed relationship between the police and the marginalized communities they serve.
If there's anyone who can make good on the promise of police reform and address the many other issues beleaguering Boston, it may very well be Wu.
Among other things, Adams has vowed to address rising violent crime and reform the police department — two aims that appear to be at odds with each other. But Adams has long embraced his status as an inscrutable figure.
Adams insists that he's uniquely capable of pulling off this balancing act. He often points out that he's challenged racism in the NYPD for decades, including when he was an officer. What's more, Adams believes that his career as a cop has given him insight into how the police undermine civilian leaders.
"The police department would run rings around (the other candidates). They are masters. If you're a good mayor, you're only here for eight years. I've been here for 30-something years in the department. Police departments will wait you out," Adams told Krieg. "And they know that whatever you hand down, they have to implement. But if you know the system, if you know the crevices, you know how to go and ensure you're getting what you want."
Even so, many people question whether Adams will be able to achieve some of his loftier ambitions. For one, this isn't the first time that someone has promised to reform the NYPD and introduce a new approach to policing, an approach that isn't a menace to Black Americans and other people of color. For another, Adams was, well, a cop.
New Yorkers will have to wait and see if that prophecy comes to pass.