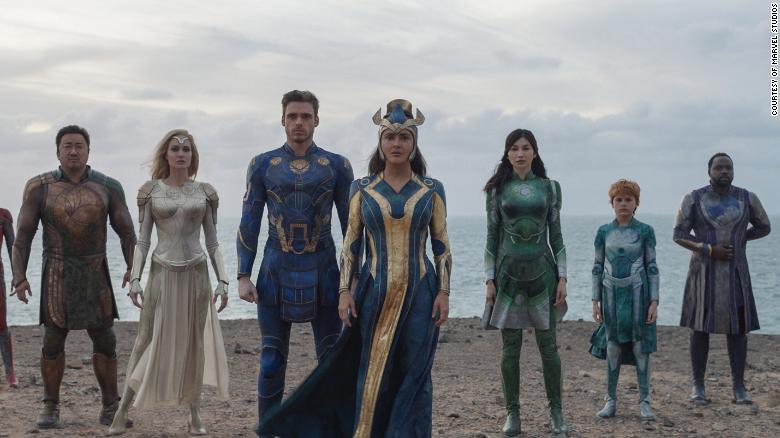 Phew.
Lucky for you, we've created an "Eternals" cheat sheet of sorts so diehard and casual fans alike can keep things straight. Here's what you need to know about the Eternals before the film's release on November 5. (This writer has not seen the film yet, but light spoilers from the comics follow.)
So … who/what are the Eternals?
The heroes are mostly immortal — even if their bodies are destroyed, they can live on in other ways. But they keep their powers secret since they live among humans.
They were sent to Earth by the Celestials, an ancient group of godlike beings, some 7,000 years before the events of the film to defend humankind against the Deviants, mutant monsters also created by the Celestials when some tests on early Earth-dwellers went awry. The Eternals are advised against interfering in non-Deviant business, instead acting as mere spectators to human conflict unless Deviants are involved.
While the Eternals have obeyed the Celestials until now, they're finally starting to question their mission and the beings who created them.
In the comics, the Eternals are often led by Ikaris, usually portrayed as a blond-haired, blue-eyed muscleman reminiscent of He-Man but with laser eyes. In some comics appearances, he's been named the Prime Eternal, or the Eternal who rules over the rest.
The speed runner Makkari has dashed all around the planet and is, frankly, bored by what she's found. In the film, the Eternals ask her to put aside her boredom for a few days to help them defeat the Deviants and save the world so she can traverse other planets.