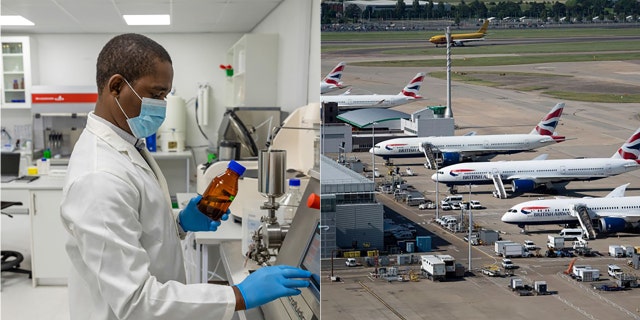 WHO meets to discuss new 'heavily mutated' COVID-19 variant
The World Health Organization is holding a meeting Friday to discuss the dramatic rise in COVID-19 cases in South Africa that has been blamed on a new variant of the virus.
Joe Phaahla, South Africa's minister of health, identified the new variant as B.1.1.529 and said it seems highly contagious among young people.
The BBC reported that the new variant seems to be the most heavily mutated so far in the outbreak. James Gallagher, the health correspondent, wrote that one scientist described the variant as "horrific." He said the meeting of the WHO will likely result in the variant receiving a Greek code-name, like the Delta variant.
"This variant did surprise us," Tulio de Oliveira, the director of the Center for South Africa's Epidemic Response and Innovation, told the news outlet. "It has a big jump on evolution [and] many more mutations that we expected."
Nature magazine reported that the variant was first reported in Botswana earlier this month. The report said scientists are trying to determine if the variant can somehow evade the immune response. One researcher in Johannesburg said, "We're flying at warp speed."
The British government announced that it was banning flights from South Africa and five other southern African countries effective at noon (1200GMT) on Friday and that anyone who had recently arrived from those countries would be asked to take a coronavirus test.
U.K. Health Secretary Sajid Javid said there were concerns the new variant "may be more transmissible" than the dominant delta strain, and "the vaccines that we currently have may be less effective" against it. CLICK HERE FOR MORE ON OUR TOP STORY. 
In other developments:
– Asian stock markets sink as traders watch Europe virus cases
– Cowboys dealing with COVID issues before Thanksgiving Day game vs. Raiders
– LA firefighter accused of wiping butt with vaccine mandate letter that was handed to him
– Guardians' employees face COVID vaccine mandate or termination: report
– St. Louis health director tells staff to ignore COVID-19 'lunatic fringe' in email: report
– Bryan Adams posts photo from ambulance, diagnosed with COVID for second time in month
New York Times staffers revolt, push holiday weekend boycott of its Wirecutter service amid strike
Staffers from the New York Times are openly revolting against their employer in solidarity with colleagues who went on strike during Thanksgiving weekend. 
Wirecutter, which the Times describes as its "product recommendation service" offering consumers trusted advice on the latest merchandise being sold, published an article Thursday on the "75+ Best Early Black Friday Deals for 2021" ahead of the biggest shopping day of the season. 
However, when the Times shared the article on Twitter, the paper faced significant blowback, including from several employees. 
"100 PERCENT of @wirecutterunion is ON STRIKE starting today!" Times reporter Davey Alba exclaimed. These posts are brought to you by NYT assigning work to middle managers & freelancers instead of paying @wirecutterunion a TOTAL OF $ 300,000 in raises distributed across 66 PEOPLE! NYT has ONE BILLION DOLLARS in cash!"