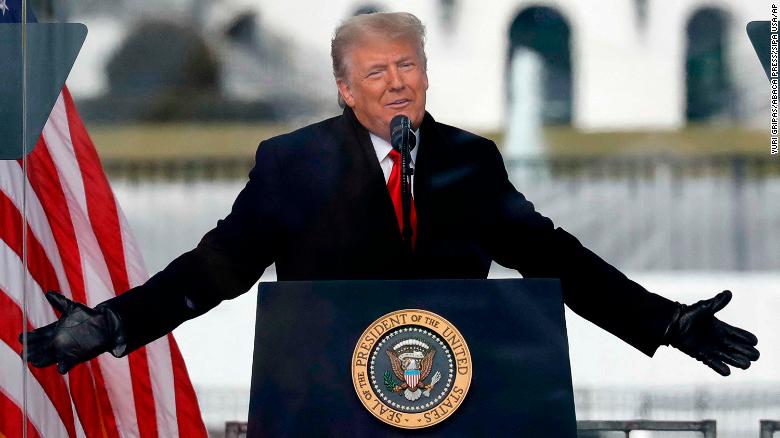 Our first CNN/SSRS poll since the insurrection of the Capitol contains mostly bad news for Republican President Donald Trump.
His approval rating (34%) is the lowest CNN's ever recorded, and most Americans want Trump removed from office immediately.
But a look underneath the hood finds that Trump's influence on the political scene is likely far from over. Many Republicans still like him, and he could be a figure to be reckoned with heading into 2022 and, yes, 2024.
Let's start with the basic fact that Trump's approval rating among Republicans in our poll stands at 80%. Other polls taken since the events of January 6 have similar ratings for Trump among Republicans, if perhaps a touch lower into the high 70s on average.
That 80% rating is certainly down from
94% before the election
, but it's still a very large percentage. It's certainly a higher approval rating among his own party than the other presidents (Harry Truman, Richard Nixon and George W. Bush)
who left office
with an approval rating below 40% overall.
A question in our poll that tries to get at Trump's baseline support within the GOP reveals that there are a lot who don't want to move on from him.
A large chunk (47%) say the party should continue to treat Trump as the leader of the GOP. That falls to 43% when you include Republican leaning independents, but, again, it's a substantial portion. Just 19% of Americans, overall, want the party to continue to treat Trump as its leader.
Other recent polling points out that Republicans who go against Trump might not be able to escape his wrath in a 2022 or 2024 primary.
Put another way, his position in very early hypothetical 2024 polling is at this point far better than other presidents after they lost their bid for another term (Gerald Ford for 1980, Jimmy Carter for 1984 and George H.W. Bush for 1996).
Indeed, the polling on the insurrection just gives you an understanding of how different the Republican base and the general electorate sees things right now.
While 65% of Americans place a great deal or moderate amount of blame on Trump "for the storming of the U.S. Capitol on January 6", only 23% of Republicans do in our CNN poll. The vast majority of Republicans (76%) said little (20%) to no (56%) blame lies at the President's feet.
The clear majority of Republicans (75%) say President-elect Joe Biden did not win enough votes to legitimately win the election, despite no evidence to make such a claim. Most Americans (65%) believe he did win legitimately.
Therefore, it's not surprising that, even as the majority of Americans (54%) in the CNN poll want Trump removed from office, a mere 10% of Republicans do. Other polling shows similarly.
The bottom line is that most Americans are ready to move on from Trump, but a lot of Republicans aren't.
That could cause the party plenty of heartache. Under Trump, the party lost the House, Senate and the presidency. The party's favorability rating has dropped over the past few months.
What Republicans need to hope is the party can unite, as most opposition parties do, around a common goal of defeating the majority party. You could see that working well in general elections.
Of course, that may not help out congressional Republicans who have defied Trump in a primary.