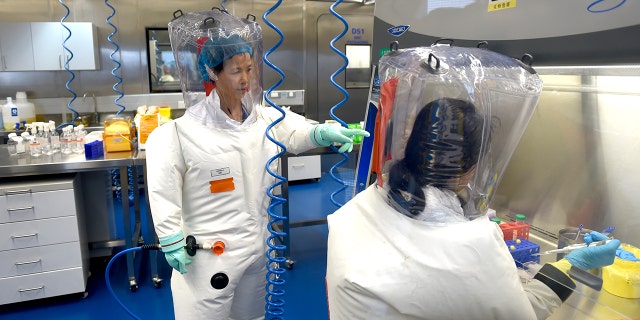 "Such a significant renovation so soon after the facility began operation appears unusual," said the report from the House Foreign Affairs Committee's Republican staff. The projects for air disinfection, hazardous waste and central air conditioning systems "all raise questions about how well these systems were functioning in the months prior to the outbreak of COVID-19." 
The true reason for the procurement posting is unclear, as is when or if the work was even initiated.  It adds another circumstantial element to the controversial argument that the pandemic began in a Wuhan lab, including suspicious behavior and obfuscation from China's government and signs the pandemic began months before previously assumed. 
Only weeks ahead of President Biden's deadline for the intelligence community's review into the origins of the pandemic, Republicans will release their most detailed case yet arguing that researchers in Wuhan could have genetically manipulated the virus and that "the preponderance of evidence suggests SARS-CoV-2 was accidentally released from a Wuhan Institute of Virology laboratory." 
Staff for Rep. Michael McCaul, R-Texas, the top Republican on the House Foreign Affairs Committee, will include this information as an addendum to their September report. CLICK HERE FOR MORE ON OUR TOP STORY.
In other developments:
–  Top Biden officials now believe COVID lab leak possible: report
– Fauci, top scientist called to brief House committees; phone call questioned
– GOP reps seek answers from Fauci on whether he misled Americans on gain-of-function research in China
– Sen. Rand Paul: 'In all likelihood' COVID escaped from a Wuhan lab
– Mark Meadows calls out Dr. Fauci over his response to the Wuhan lab leak theory
Fauci 'respectfully disagrees' that masks are a 'choice': 'Infection is impacting everyone'
White House Chief Health Advisor Dr. Anthony Fauci has rejected the idea that face masks are a "personal choice" in the face of the increasingly severe delta variant of the coronavirus. 
The United States on Thursday recorded almost 80,000 new COVID-19 cases – well below the January peak of nearly 300,000 new daily cases, but a stark rise from a month ago when daily cases were under 10,000.
While the number of those cases driven by the more transmissible delta variant is not clear, the CDC advised in early July that the variant was likely the dominant strain in the U.S. The CDC once again advised masks whenever individuals are inside shared spaces, but many people have resisted the call to wear masks, saying they have a right to choose whether to wear one.
"I respectfully disagree with them," Fauci said on ABC's "This Week." "There are things that are individual responsibilities that one has, and there are things that have to do with you individually which also impact others, and the spread of infection that we're seeing now … is impacting everyone in the country." 
"Although you want to respect a person's individual right, when you're dealing with a public health situation, and we are in fact in a very serious public health challenge here …  a person's individual decision to not wear a mask not only impacts them … but you very well may infect another person who may be vulnerable," he added. CLICK HERE FOR MORE.
In other developments:
– Fauci warns latest COVID-19 wave is 'going to get worse'
– NYT's Bret Stephens hits Fauci in scathing op-ed: 'Covid misinformation comes from the top, too'
– Gavin Newsom slammed for mask 'hypocrisy' and 'ignoring science' by GOP gubernatorial candidate Larry Elder
– Contradictions from Fauci, CDC throughout COVID pandemic outlined in viral Twitter thread
Olympic athlete Raven Saunders becomes latest to inject politics into Toykyo games
American silver medalist shot-putter Raven Saunders delivered a political demonstration at the Olympics podium on Sunday in the latest protest at the Tokyo games.